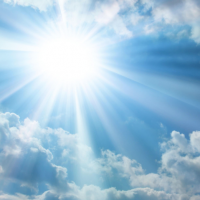 Worship Jesus
by Sis. Jane Kimmes | December 10, 2014
Hello all at GWOD,

It was so nice to see the new children at church worshiping Jesus at the end of the service today. Many of them expressed joy and freedom as they were crossing the floor clapping their hands and praising God. Thank God for the little children. It reminded me of Psalm 8:1-2 "O LORD, our Lord, how excellent is thy name in all the earth! Who hast set thy glory above the heavens. Out of the mouth of babes and sucklings hast thou ordained strength because of thine enemies, that thou mightest still the enemy and the avenger."

The Sunday school discussion about angels could not bring forth worship nor could it bring deliverance or free anyone because angels have no power or deliverance in and of themselves. When the discussion shifted off of the angels and unto Jesus the Creator of all things, the worship sprang forth and the King of Glory Himself stepped in with power to heal, save, and deliver. Jesus Christ is on the Throne ruling and He alone deserves our worship. His obedient angels hearken to the voice of His Word and do His bidding, they worship Him too. So let's worship Jesus and Bless Him. Do it now! Jesus is God and that is why we worship Him. People, angels, and things should never be worshiped. "Bless the LORD, ye his angels, that excel in strength, that do his commandments, hearkening unto the voice of his word. Bless ye the LORD, all ye his hosts; ye ministers of his, that do his pleasure. Bless the LORD, all his works in all places of His dominion: bless the LORD, O my soul." Psalm 103:20-21

Bless Him again. Yes, Bless Him. He rules and reigns. He will show up all by Himself and if He desires He could bring legions of His angels with Him. It is up to Him. They will obey His voice. How much more should we obey His voice. Pastor Crowder was hearkening unto the voice of the Lord and blessed us with a deep understanding of the following Scriptures. I would like to suggest that each of you seek His face in these Scriptures once again and see what He is exhorting us to do and then act on it. This Word came to us under the anointing and it is for our good and the good of the Body at GWOD. Take this Word and spread it to others outside our church in need. Hearken diligently unto His Word and remember it. Hearken means to listen with the intent to act upon the message given, in other words to apply His Word into our lives with perseverance.

Prov 3:21-26 "My son, let not them depart from thine eyes: keep sound wisdom and discretion: So shall they be life unto thy soul, and grace to thy neck. Then shalt thou walk in thy way safely, and thy foot shall not stumble. When thou liest down, thou shalt not be afraid: yea, thou shalt lie down, and thy sleep shall be sweet. Be not afraid of sudden fear, neither of the desolation of the wicked, when it cometh. For the LORD shall be thy confidence, and shall keep thy foot from being taken." So keep our minds clear, keep standing, stay in the will of God. Remember the devil is an "old dictator" and a liar, don't listen to him. Stay right with God and trust Him.

Acts 24:16 "And herein do I exercise myself, to have always a conscience void of offense toward God, and toward men." Stay right before God and man.

Heb 9:14 "How much more shall the blood of Christ, who through the eternal Spirit offered himself without spot to God, purge your conscience from dead works to serve the living God?" This is how to stay right before God and man.

Phil 4:11-16 "Not that I speak in respect of want: for I have learned, in whatsoever state I am, therewith to be content. I know both how to be abased, and I know how to abound: every where and in all things I am instructed both to be full and to be hungry, both to abound and to suffer need. I can do all things through Christ which strengtheneth me. Notwithstanding ye have well done, that ye did communicate with my affliction. Now ye Philippians know also, that in the beginning of the gospel, when I departed from Macedonia, no church communicated with me as concerning giving and receiving, but ye only. For even in Thessalonica ye sent once and again unto my necessity." Shout: I can do all things through Christ which strengtheneth me! Be content with what you have.

Prov 17:1 Better is a dry morsel, and quietness therewith, than a house full of sacrifices with strife." Give God praise and be content with what you have. The presence of God is with you.

Luke 12:16-21 "And he spake a parable unto them, saying, The ground of a certain rich man brought forth plentifully: And he thought within himself, saying, What shall I do, because I have no room where to bestow my fruits? And he said, This will I do: I will pull down my barns, and build greater; and there will I bestow all my fruits and my goods. And I will say to my soul, Soul, thou hast much goods laid up for many years; take thine ease, eat, drink, and be merry. But God said unto him, Thou fool, this night thy soul shall be required of thee; then whose shall those things be, which thou hast provided? So is he that layeth up treasure for himself, and is not rich toward God." This is what a greedy person does, he is not content. Instead be rich toward God.

Prov 30:8-11 "Remove far from me vanity and lies: give me neither poverty nor riches; feed me with food convenient for me: Lest I be full, and deny thee, and say, Who is the LORD? or lest I be poor, and steal, and take the name of my God in vain. Accuse not a servant unto his master, lest he curse thee, and thou be found guilty. There is a generation that curseth their father, and doth not bless their mother." People in this state begin to deny God, curse, and steal.

Psalm 73:23-25 "Nevertheless I am continually with thee: thou hast holden me by my right hand. Thou shalt guide me with thy counsel, and afterward receive me to glory. Whom have I in heaven but thee and there is none upon earth that I desire beside thee." God is telling us he will talk with us, lead us, and guide us. Give yourself to Him every morning. Hear and obey His voice. If gloom comes over you give yourself to Him.

2 Cor 9:8 "And God is able to make all grace abound toward you; that ye, always having all sufficiency in all things, may abound to every good work." He will Bless us.

Now GWOD we must all act upon this Word. What are you going to do based on these Scriptures? Worship Him now and He will direct you. I loved the song during the offering, "Seek ye first the Kingdom of God and His Righteousness and all these things shall be added unto you." Be blessed and Be a blesser too and do not fear. Be content and spread God's provision and love to others! I love all of you.
Love, Sis. Jane