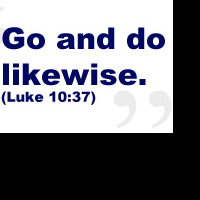 Work With That Soul
by Sis. Jane Kimmes | February 12, 2015
God took us to Glory today! We had a wonderful move of the Holy Ghost this morning at GWOD and we thank God for having His Holy Way. Yokes were broken. If you have been "timing" when things "should happen" during the services, well, you will quickly realize that God is not into tradition and is not bound by time or programs. He is fresh and alive and moves when and how He wants to. The only thing that you should "time" is getting there on time. If you know anybody that dreads going to church please invite them to GWOD! God certainly is not a dread and when God has His way in a church, you are in for the best surprise of you life, because He is always on time and He will show you His Greatness in the supernatural. If church is traditional, mundane, and boring, then that is not God, that would instead be flesh. Now I suppose someone could still feel that going to church is a dread even while attending GWOD, but that person should keep on coming because God will break the yoke that is keeping him bound.
God moved mightily in the Worship as Pastor Crowder sang song after song until God had His Way. Then Minister Roselind continued to minister in song. Many were moved by the Spirit and helped others break through and get their release. Sis. Love reminded all of us that God is putting us in a new place, a new position and that we are to go there speedily. Don't forget the Gate is open! Many stepped in today. Pastor explained that we must "give up" and let God do it.
Minister Cynthia continued in this vein of worship and taught from Luke 10:25-34.
"And, behold, a certain lawyer stood up, and tempted him, saying, Master, what shall I do to inherit eternal life? 26 He said unto him, What is written in the law? how readest thou?
27 And he answering said, Thou shalt love the LORD thy God with all thy heart, and with all thy soul, and with all thy strength, and with all thy mind; and thy neighbour as thyself. 28 And he said unto him, Thou hast answered right; this do, and thou shalt live. 29 But he, willing to justify himself, said unto Jesus, And who is my neighbour? 30 And Jesus answering said, A certain man went down from Jerusalem to Jericho, and fell among thieves, which stripped him of his raiment, and wounded him, and departed, leaving him half dead. 31 And by chance there came down a certain priest that way: and when he saw him, he passed by on the other side. 32 And likewise a Levite, when he was at the place, came and looked on him, and passed by on the other side. 33 But a certain Samaritan, as he journeyed, came where he was: and when he saw him, he had compassion on him, 34 And went to him, and bound up his wounds, pouring in oil and wine, and set him on his own beast, and brought him to an inn, and took care of him."
Minister Cynthia explained that we must meet the needs of our neighbor. Who is your neighbor? May I say, Everybody! We are to show compassion, just as this Samaritan did. It does not matter who, what, where, when, why, or how; just help that person in need. Who can you help today? There are needs in the church, in the work place, on the street, and everywhere. We must minister to our neighbor and show the love of Christ to them. Sis. Cynthia said, "If you know the Spirit of the Lord, you can minister to them. Put the Word into action!" She explained fully the state of the Samaritan people at that time and how they were rejected by their own people. When the ten tribes had been taken captive to Assyria, many of them intermingled with foreigners and had a religious mixture of Judaism and idolatry. They also intermarried with the foreigners and retained idolatrous customs. They were therefore despised by the Jewish people.
Co Pastor Lane spoke on rejection and brought it very close to our own hearts. She said that the Samaritan had himself been rejected from his people and therefore could feel compassion for the man that fell among the thieves and chose to help him; a rejected person knows what it is like to be rejected and can use these feelings to help others. She mentioned the four Hebrew boys Daniel, Hananiah, Mishael, and Azariah who refused the king's meat

and these same three Shadrach, Meshach, and Abednego had refused to bow down and worship the image that King Nebuchadnezzar had set up, therefore they were thrown into the burning fiery furnace, and Daniel also refusing to bow to any other god and continuing to pray on his knees to God three times a day in front of an open window even after a decree was written against this, causing him to be thrown into the lion's den (Dan 1-3, and 6). God was with each one of them and delivered them in each instance. Everybody else bowed down to this image except for these four and God's favor was upon them. He used them to deliver a people for His Name's sake.
She exhorted us not to forget that we too used to "bow down" and "worship" the god of this world before God changed our hearts, so therefore not to be prejudice or unaccepting toward those that are still in the world. We must not reject them but instead have compassion on them and help them. We have been saved and delivered in order to help others to be saved and delivered. The Samaritan had experienced rejection and hatred and because of this, he understood how to help another person who was in great distress. The same goes for us, we should take our own feelings of rejection and use it to help others.
Pastor Crowder then exhorted us not to be picky when choosing whom to help! "
Pour the Word and oil on that area that needs help [meanness, lust, etc.] and put them on your beast." In other words be like the Samaritan and help the person out of their problem or sin by giving them the Word and some oil (Holy Ghost anointing). Let them "ride on your back," they have been robbed (by Satan) and left for dead. It takes time to work with a soul, sometimes years. Work with them and take that soul to their end destination, until they have rest. They don't have what you have (Jesus), they have been robbed. You have to get down where the dirt is, into the "nice nasty" and help them get their minds right. Then they will see and begin to forgive themselves. She explained that there should be something in you like a "search light" searching out every person and each of their needs so you can minister to them.
With all of God's Blessings being poured out on us each week at GWOD it is so necessary that we spread this love and compassion out to others. It made my day to see the Cruses and their friends. Let's continue to grow in our relationships with each other. Continue to walk in the Spirit and help others, search them out and stay with them until they are strong in the Lord. By the way, that "search light" mentioned above is the Holy Ghost at work in you! I love all of you very much.