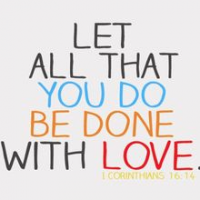 Unfeigned Love
by Sis. Jane Kimmes | April 21, 2015
God loves us and wants us to comprehend His love for us, "For God so loved the world, that he gave his only begotten Son, that whosoever believeth in Him should not perish, but have everlasting life" John 3:16. His love is so great and empowering that it cannot be measured or contained. His love for us is so wide, deep, long, and high that it surpasses knowledge! Because His love surpasses knowledge we cannot fully understand it with our minds. It is necessary to learn about Jesus and receive Him; to be born again (read John 3). We must get an understanding and learn as much as we can of God's love through His Word and be filled with the Holy Ghost (Christ in us); and then walk out that love by serving Christ, by serving others. We must live by faith in the Son of God, who loved us and gave Himself for us. "I am crucified with Christ: nevertheless I live; yet not I, but Christ liveth in me: and the life which I now live in the flesh I live by the faith of the Son of God, who loved me, and gave himself for me" Gal 2:20. Do you know and believe God's love for you personally? "And we have known and believed the love that God hath to us. God is love; and he that dwelleth in love dwelleth in God, and God in him" I John 4:16. My, what power packed words! Ask yourself these questions: Are you dwelling in love? Is God in you (Christ in you)? Are you filled to overflowing, having the fullness of Christ in you? Today at GWOD we continued learning about God's perfect love, the receiving of His love by being filled with the Holy Ghost, the giving of ourselves to others and loving them through the power of the Holy Ghost. We learned about several different facets of God's love.
Let's begin by reading the following scriptures and asking God for a greater understanding and comprehension of His love. 1 John 4:13-5:5, "Hereby know we that we dwell in him, and he in us, because he hath given us of his Spirit. 14 And we have seen and do testify that the Father sent the Son to be the Saviour of the world. 15 Whosoever shall confess that Jesus is the Son of God, God dwelleth in him, and he in God. 16 And we have known and believed the love that God hath to us. God is love; and he that dwelleth in love dwelleth in God, and God in him. 17 Herein is our love made perfect, that we may have boldness in the day of judgment: because as he is, so are we in this world. 18 There is no fear in love; but perfect love casteth out fear: because fear hath torment. He that feareth is not made perfect in love. 19 We love him, because he first loved us. 20 If a man say, I love God, and hateth his brother, he is a liar: for he that loveth not his brother whom he hath seen, how can he love God whom he hath not seen? 21 And this commandment have we from him, That he who loveth God love his brother also. 5 Whosoever believeth that Jesus is the Christ is born of God: and every one that loveth him that begat loveth him also that is begotten of him. 2 By this we know that we love the children of God, when we love God, and keep his commandments. 3 For this is the love of God, that we keep his commandments: and his commandments are not grievous. 4 For whatsoever is born of God overcometh the world: and this is the victory that overcometh the world, even our faith. 5 Who is he that overcometh the world, but he that believeth that Jesus is the Son of God?"
Deaconess Crumbley pointed out how believing is key to receiving God's love and living an overcoming life. 1 John 5:5 says, "Who is he that overcometh the world, but he that believeth that Jesus is the Son of God?" He fills us with the Holy Ghost so we can carry out His love here on this earth. As believers in Christ, we have an obligation to live out what we are speaking, teaching, writing or preaching. The Holy Ghost enables us to do this and we are His living epistles read of all men! That means that you are on display wherever you go and whatever you do, and people are watching! "Ye are our epistle written in our hearts, known and read of all men: 3 Forasmuch as ye are manifestly declared to be the epistle of Christ ministered by us, written not with ink, but with the Spirit of the living God; not in tables of stone, but in fleshy tables of the heart" 2 Cor 3:2-3. Sis. Crumbley asked the question, "What does love look like to you?" If you didn't get a chance to answer that question this morning, go ahead and answer it right now. Is your answer based on God's Word? This love must be measured by the Word or it will manifest itself as some other kind of feeling or counterfeit love and not true love. It is necessary to believe and trust God's love. This includes trusting His love in you and also trusting His love in others who are filled with the Holy Ghost. Are you demonstrating God's love in everything you do? If not, you will have to get on your knees or lie prostrate before God and seek His face. Ask Him to fill you with the Holy Ghost, ask for wisdom and understanding, ask for His strength and power, and ask Him to show you how to love, bless, and serve others. He will show you His will for your life. Get into His Word and Praise Him! He will respond.
Co Pastor Lane spoke about the fears and torments that we experience when we feel we have not pleased God due to sin or disobedience. This is where faith comes into action. There is no fear in love and perfect love casts out fear (read again 1 John 4:17-19). The Holy Ghost will give us the protection we need against these fears and torments. It is important to get an understanding of why you are doing these behaviors. Why is it a sin? Why is it against the will of God? We live in fear because we don't know God and that is why there is no peace or joy. Spend time with God and get to know Him. We are all made differently, so it is important to walk after the instructions He gives you and then you will not be wondering if you are pleasing Him. Remember "As He is, so are we in this world,"

so

walk in the Holy Ghost. It was explained to us that when you are scared of someone, it means you have a hatred toward them based on your perception of how they have treated you. Think on this for a moment. Have you ever had a fear of your boss, your mother, your Pastor, your father, or even a dog or cat? Yes, we all have and because of how you have perceived their treatment toward you, this fear persists. It could even be someone who is in a position like theirs and you are still associating that previous pain with this new person. Co Pastor Lane explained that there is no love in this. When you have fear, other things come up with it: a bad attitude, procrastination, withdrawal, laziness and irresponsibility, etc.; basically you shut down because you don't have perfect love.
In order to understand God's love you have to realize that God does not love the same way people love. He loves regardless of who you are and what you do. God's love transcends all of the things that you have ever done. The more we come to know Him through His Word and prayer, the more He fills us with the Holy Ghost. We will see evidence of His love and we will no longer be angry, fearful, or lack confidence, etc., because the Holy Ghost has come in and changed that. Let's take a break and praise Him right now! Praise God and thank Him!
Pastor Crowder added that God's love does not always look good or sound good in correction. His love corrects sin and correction is painful at times. Also God's love will be evident in how one looks or acts, for example, you can see patience and kindness in another's actions. Read 1 Cor 13 once again to gain a better understanding of what God's love looks like. Love covers a multitude of sins. "And above all things have fervent charity among yourselves: for charity shall cover the multitude of sins" 1 Pet 4:8. Cover means to put something such as a cloth or lid on top of or in front of something in order to protect it or conceal it. Love sets things in order. Love will keep you out of trouble. Love will get in front of what you are trying to do (preventing you from going any further) because it is not the right thing for you to do. Love can hide you and cover you. Love takes over everything.
Pastor Crowder continued with these scriptures and explanations:
1 Pet 1:22-23 "Seeing ye have purified your souls in obeying the truth through the Spirit unto unfeigned love of the brethren, see that ye love one another with a pure heart fervently: 23 Being born again, not of corruptible seed, but of incorruptible, by the word of God, which liveth and abideth for ever." Get purified! If you are in a living in a neighborhood or household that you want to get out of, let God purify you first in truth. God has you there to clean you up. Don't upset where God has put you, you're there to learn how to love. Love is working some faults out of you. Unfeigned love is where nothing is in the way. It is a sincere, genuine, real, true, honest, unaffected, unforced, heartfelt, and wholehearted love.
1 John 4:21"And this commandment have we from him, That he who loveth God love his brother also." You have to love the brethren and your family also. God's love doesn't always look good here! You must endure with them, God is showing you your own hearts response in your actions toward them (are you impatient, mean, or selfish? etc.). "And thou shalt remember all the way which the LORD thy God led thee these forty years in the wilderness, to humble thee, and to prove thee, to know what was in thine heart, whether thou wouldest keep his commandments, or no" Deut 8:2.
1 John 4:9-11 "In this was manifested the love of God toward us, because that God sent his only begotten Son into the world, that we might live through him. 10 Herein is love, not that we loved God, but that he loved us, and sent his Son to be the propitiation for our sins. 11 Beloved, if God so loved us, we ought also to love one another." Loving one another is a response to God's love. Others will see Christ in you. Our love is faulty when we want to avoid those "bad folk!"; you must endure with those that mistreat you. Moses couldn't put all of those "bad folk!" out at one time (Numbers 14). It was God's love that took him out into the back side of the desert for 40 years (Exodus 2, 3 and Acts 7:30) working with sheep until the "Egypt" was out of his life. Get the "Egypt" out of your life! We want more prestige but have no love. Moses was 80 years old when God sent him back to Egypt to talk with Pharaoh (Exodus 7:7). The love of God put Joseph in prison (Genesis 39) in order to exalt him. God's love doesn't always look or feel good! So stay in place and endure until God takes you out. You have to be purged. Even if you are not acting out your thoughts you are still thinking them and you are out from under God's love. Are you going to get God's love right? Right love will make you go up and hug and kiss them. The love of God purifies you and you can endure.
Rom 12:9-10 "Let love be without dissimulation. Abhor that which is evil; cleave to that which is good. 10 Be kindly affectioned one to another with brotherly love; in honour preferring one another;" Put evil away and be kind to your enemy. You will be able to look them in the face, bless them and hug them. You have to practice it daily and it will become true. If others are acting out against you, don't put your mouth or attitude to it, instead get out of the way and let God handle it. Don't provoke the soul. If you are in peace they will get in peace. It is a test for your spirit: Will you get angry? Will you be selfish? Ask God to sanctify you. If God blots out sin and remembers it no more, we have to do the same. "I, even, I am he that blotteth out thy transgressions for mine own sake, and will not remember thy sins" Isaiah 43:25.
Praise God! Well, this was another stirring message concerning unfeigned love and being perfected in Christ. I hope you are as encouraged as I am in learning to love as God loves. Let's put this powerful Word into action. I will close with this prayer from the Word. Pray it out loud with me and watch how God will respond, it is for all of us. "For this cause I bow my knees unto the Father of our Lord Jesus Christ, 15 Of whom the whole family in heaven and earth is named, 16 That he would grant you, according to the riches of his glory, to be strengthened with might by his Spirit in the inner man; 17 That Christ may dwell in your hearts by faith; that ye, being rooted and grounded in love, 18 May be able to comprehend with all saints what is the breadth, and length, and depth, and height; 19 And to know the love of Christ, which passeth knowledge, that ye might be filled with all the fulness of God. 20 Now unto him that is able to do exceeding abundantly above all that we ask or think, according to the power that worketh in us, 21 Unto him be glory in the church by Christ Jesus throughout all ages, world without end. Amen." Eph 3:14-21.
Continue to pray for the sick and those who are suffering and in need of our Saviour, that God would manifest Himself strong in their lives, heal, save and deliver. The Lord bless you, and keep you, and make His face shine upon you, and be gracious to you, and lift up His countenance upon you and give you peace. I love you.