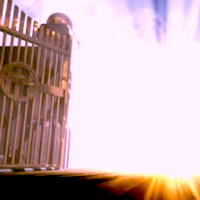 The Gate Is Open, Go In
by Sis. Jane Kimmes | January 26, 2015
The King of Glory stepped in this morning during Sunday school proclaiming, "The Gate is open!" Do you understand it? God is saying, "I am here, come on in." The Gate is open and we'd better step in! I'm expecting all kinds of miracles at GWOD as we all step in through the Gate. Don't let any one of us miss going through the Gate. If you see someone standing at the entrance not knowing that the Gate is open for them to enter, please help them through. Here is what happened!
We were studying the following verses from James 5:13-18,
"Is any among you afflicted? let him pray. Is any merry? let him sing psalms. 14 Is any sick among you: let him call for the elders of the church; and let them pray over him, anointing him with oil in the name of the Lord: 15 and the prayer of faith shall save the sick, and the Lord shall raise him up; and if ye have committed sins, they shall be forgiven him. 16 Confess your faults one to another, and pray one for another, that ye may be healed. The effectual fervent prayer of a righteous man availeth much. 17 Elias was a man subject to like passions as we are, and he prayed earnestly that it might not rain: and it rained not on the earth by the space of three years and six months. 18 And he prayed again, and the heaven gave rain, and the earth brought forth her fruit."
Eldress Ollie was pointing out the need to confess our faults one to another, not being ashamed or afraid. She also encouraged us to confess, "I am the Righteousness of Christ through what Jesus has done for me." Pastor Crowder then stood up to say that we are overcomers and that God wants us to go up a step. God wants to take us higher, not just a repeat of the ordinary in our church services or in our lives, but higher! This is when the King of Glory stepped in strong and mighty proclaiming, "The Gate is open!" Pastor explained that God wants us to step up (go higher in the Spirit) and go through the Gate (into His Presence and fullness). God took every sin upon Himself and He has saved us and sanctified us, so He is saying, "Come in!" Go in church, the Gate is open day and night. We are Righteous because of what He has done for us. W
hen He ascended back up into heaven the Gate was opened. We are standing just outside of the Gate knocking and He wants us to go in, so step in and let the King of Glory take over your life. Here are the Scriptures that were given to us, along with their meaning:
Psalm 24:4-10

"He that hath clean hand, and a pure heart; who hath not lifted up his soul unto vanity, nor sworn deceitfully. 5 He shall receive the blessing from the LORD, and righteousness from the God of his salvation. 6 This is the generation of them that seek him, that seek thy face, O Jacob. Selah.

7
Lift up your heads, O ye gates; and be ye lift up, ye everlasting doors; and the King of glory shall come in. 8 Who is this King of glory? The LORD strong and mighty, the LORD mighty in battle. 9 Lift up your heads, O ye gates; even lift them up, ye everlasting doors; and the King of glory shall come in. Who is this King of glory? The LORD of hosts, he is the King of glory. Selah."
We are going to see the blessings of the Lord. You have freedom and victory, so lift up your heads. You're not bound anymore. The Gate of God's deliverance is open to you today. He is mighty and strong in battle.
Isaiah 60:11

"Therefore thy gates shall be open continually; they shall not be shut day nor night; that men may bring unto thee the forces of the Gentiles, and that their kings may be brought."

Gates shall be opened continually, continually, continually... Whatever you need is open to you day or night. Whoever needs deliverance, just go in, He is there.
Isaiah 62:10

"Go through, go through the gates; prepare ye the way of the people; cast up, cast up the highway; gather out the stones; lift up a standard for the people."

Go through the gate and be renewed. Take another step up! Give up everything that is messing with your life, speak to it and lift up a standard. First you go through the gate, then you can help others and someone else can be saved.
Isaiah 26:2-5

"Open ye the gates, that the righteous nation which keepeth the truth may enter in. 3 Thou wilt keep him in perfect peace, whose mind is stayed on thee: because he trusteth in thee. 4 Trust ye in the LORD for ever; for in the LORD JEHOVAH is everlasting strength: 5 For he bringeth down them that dwell on high; the lofty city, he layeth it low; he layeth it low, even to the ground; he bringeth it even to the dust."

He opened the gates for you, now you open the gates for someone else. God has already moved and opened those gates thousands of years ago. Shout! Praise God! Trust Him. He will either destroy the lofty city (your enemy) or bring the "problem" down low so that you can deal with it. He is your everlasting strength.
Psalm 24:1-3

"The earth is the LORD'S and the fulness thereof; the world, and they that dwell therein. 2 For he hath founded it upon the seas, and established it upon the floods. 3 Who shall ascend into the hill of the LORD? or who shall stand in his holy place?"

We have to think and act like we belong to God, don't sit back and let the devil have everything. Shouting "wars" the enemy, it shuts the devil up. God is saying that He has given us the keys to the Kingdom. Look above (to Him), down here it (the problem, sickness, etc.) is broken, but when you look down from above, it is already fixed. We are too low and can't see the finished work. Look up, go up, get up in the Spirit and let God fix it.
Isaiah 60:1-8

"Arise, shine; for thy light is come, and the glory of the LORD is risen upon thee. 2 For, behold, the darkness shall cover the earth, and gross darkness the people: but the LORD shall arise upon thee, and his glory shall be seen upon thee. 3 And the Gentiles shall come to thy light, and kings to the brightness of thy rising. 4 Lift up thine eyes round about, and see: all they gather themselves together, they come to thee: thy sons shall come from far, and thy daughters shall be nursed at thy side. 5 Then thou shalt see, and flow together, and thine heart shall fear, and be enlarged; because the abundance of the sea shall be converted unto thee, the forces of the Gentiles shall come unto thee. 6 The multitude of camels shall cover thee, the dromedaries of Midian and Ephah; all they from Sheba shall come; they shall bring gold and incense; and they shall shew forth the praises of the LORD. 7 All the flocks of Kedar shall be gathered together unto thee, the rams of Nebaioth shall minister unto thee: they shall come up with acceptance on mine altar, and I will glorify the house of my glory. 8 Who are these that fly as a cloud, and as the doves to their windows?"

Get in a Spiritual place with God and your light will shine for all to see. The enemy will see God's glory on you. Don't let you head hang down nor worry about the people you have been praying for, just arise and shine. Get in the Spirit. You can't be in the carnal when you are up in the Spirit. When you are up high (in the Spirit) with God and not down there (in the problem), then you can just call out their names and speak by faith. While you are obeying, God is doing the work. It is already done! He is the Power, so just call on Him and speak it out by faith. Flow with the Lord and you will see His Power. Praise Him! Bless Him! Go up in the Spirit, in the Spirit it is already fixed. God will supply their need and yours too, don't fear. Jesus paid the price for us and the Gate is open. God invites us to "Come in" all without a price, day and night! Being with Jesus is the sweetest place to be and when you are with Him in the Spirit you have given Him the accepted offering and you have gone in through the Gate. Real intercession causes you to "fly" above the situation; you will dream dreams of flying above, looking above the situation. Praise God. You will draw souls by lifting up the Name of Jesus.
Isaiah 60:15-17

Whereas thou has been forsaken and hated, so that no man went through thee, I will make thee an eternal excellency, a joy of many generations. 16 Thou shalt also suck the milk of the Gentiles, and shalt suck the breast of kings: and thou shalt know that I the LORD am thy Saviour and thy Redeemer, the mighty One of Jacob. 17 For brass I will bring gold, and for iron I will bring silver, and for wood brass, and for stones iron: I will also make thy officers peace, and thine exactors righteousness."

You will be hated by many, but go through it "looking up" and see what God will do with you. The Gentiles will be blessing you! Start gleaning and He will bring a Boaz. Use the instruments God has given you. Ask God to remove all hinderances.
Wow, what a powerful Word. Shout out with me, "We have stepped up and we have gone in through the Gate, we Praise You God for Your open Gate, You are that Gate and we are standing in Your Presence" When we get a Word like this, God approves it and confirms it with testimonies. I expect God to stretch forth his hand with signs and wonders, divers miracles, and the gifts of the Holy Ghost moving strongly and mightily through us in great exploits of love and compassion all according to God's will. Remember to delight yourself also in the Lord and He will give you the desires of your heart. Commit your way unto the Lord, trust also in him; and he shall bring it to pass. Pray and intercede fervently one for another and be doers of His Word. I love all of you very much.