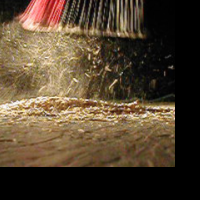 Sweep Out The Evil Spirits
by Sis. Jane Kimmes | May 5, 2015
All of us must get into a place of prayer with the Lord as led by the Spirit, along with studying the Word and praising and worshipping our God. Prepare your hearts everybody because nobody else can do it for you, it is an individual salvation and it is time to seek the Lord concerning our hearts. Co Pastor Lane had a dream that was very significant for our church body. She dreamt that she was cleaning the church and sweeping it with a broom. The church was bigger than our building here at GWOD having many more rooms. She was sweeping under a table and noticed a lot of fuzz or hair. She kept sweeping under this table to clean it up, but the fuzz and hair just seemed to multiply so she poked the broom at this mess under the table at it formed into the body of a fox with a rooster's head. Pastor Crowder was there with instructions and Co Pastor Lane and Co Pastor McCarty were to get that fox with the rooster's head out of the church. This fox/rooster rose up to fight as Co Pastor Lane continued to poke at it, laboriously trying to sweep it out of the church. Co Pastor McCarty was helping and He opened the door as Co Pastor Lane swept it out with the broom and he closed the door. I will further explain Pastor Crowder's interpretation of this dream below.
We studied 3 John 1:1-14 and Minister Lucretia discussed how John, in his third letter, was commending and encouraging Gaius and Demetrius who were co-workers with him in the truth and were living Godly lives. The letter also contained a warning to them about Diotrephes, a worker of evil who was hindering the work of Christ. John urged them not to follow this evil example. Go ahead and read this passage again: "The elder unto the wellbeloved Gaius, whom I love in the truth. 2 Beloved, I wish above all things that thou mayest prosper and be in health, even as thy soul prospereth. 3 For I rejoiced greatly, when the brethren came and testified of the truth that is in thee, even as thou walkest in the truth. 4 I have no greater joy than to hear that my children walk in truth. 5 Beloved, thou doest faithfully whatsoever thou doest to the brethren, and to strangers; 6 Which have borne witness of thy charity before the church: whom if thou bring forward on their journey after a godly sort, thou shalt do well: 7 Because that for his name's sake they went forth, taking nothing of the Gentiles. 8 We therefore ought to receive such, that we might be fellowhelpers to the truth. 9 I wrote unto the church: but Diotrephes, who loveth to have the preeminence among them, receiveth us not. 10 Wherefore, if I come, I will remember his deeds which he doeth, prating against us with malicious words: and not content therewith, neither doth he himself receive the brethren, and forbiddeth them that would, and casteth them out of the church. 11 Beloved, follow not that which is evil, but that which is good. He that doeth good is of God: but he that doeth evil hath not seen God. 12 Demetrius hath good report of all men, and of the truth itself: yea, and we also bear record; and ye know that our record is true. 13 I had many things to write, but I will not with ink and pen write unto thee: 14 But I trust I shall shortly see thee, and we shall speak face to face. Peace be to thee. Our friends salute thee. Greet the friends by name" 3 John 1:1-14.
So Diotrephes was a self-exalted, prideful and evil worker who was prating against John and other preachers of truth, spreading malicious gossip against them. He refused to receive these traveling preachers who ministered God's Word in truth and he also tried to lead the other members of the church astray by forbidding them also the joy of sharing their homes as a place of rest for these co-workers of truth. He usurped John's ordained authority and would not accept his instructions, even to the point of casting out church members that had accepted John's authority. This was because he loved preeminence and wanted to dominate the church. Gaius and Demetrius on the other hand had a good report from John. This is what we should all desire, a good report from our Godly authorities, which means a good report from God. Let's pray one for another that we would each fulfill our calling, refusing to be distracted by evil workers that would hinder us or lead us astray and that we will give God our very best in all that we do. Diotrephes in his deceived state of mind may have assumed he was helping the church, so it is very important that we stand firm in the Word and recognize and "sweep out" any deceitful, self-seeking, prideful, or controlling spirits that could rise up in any one of us." Obey them that have the rule over you, and submit yourselves: for they watch for your souls, as they that must give account, that they may do it with joy, and not with grief: for that is unprofitable for you" Heb 13:17. Diotrephes fell into deceit by not submitting to God's ordained authority over His soul and was hindering other Godly co-workers and church members by his actions.
Minister Lucretia explained that we too must take the Word seriously and stand firm in the Word as co-workers of the truth in God's Kingdom. "And he gave some, apostles; and some, prophets; and some, evangelists; and some, pastors and teachers; 12 For the perfecting of the saints, for the work of the ministry, for the edifying of the body of Christ: 13 Till we all come in the unity of the faith, and of the knowledge of the Son of God, unto a perfect man, unto the measure of the stature of the fulness of Christ: 14 That we henceforth be no more children, tossed to and fro, and carried about with every wind of doctrine, by the sleight of men, and cunning craftiness, whereby they lie in wait to deceive; 15 But speaking the truth in love, may grow up into him in all things, which is the head, even Christ: 16 From whom the whole body fitly joined together and compacted by that which every joint supplieth, according to the effectual working in the measure of every part, maketh increase of the body unto the edifying of itself in love" Eph 4:11-16. She asked some important questions,"How do we see one another in the ministry? What is your report? Do you have a good report of all men and of the truth itself, confirmed by our Godly leaders? If you are not yet ready to minister, Pastor will sit you down until you are ready, respect that. There will be a blessing in following the instructions."
Pastor Crowder asked, "How many of you know your own heart? Do you want to know your own heart?" She explained that you have to know the Word by your heart." Diotrephes was a self-centered man who changed the truth; even putting people of truth out of the church. Apostasy is very prevalent today and even Holiness is turning over because the leaders are "tired of being without!" She continued,"We have a lot of hypocrites in authority now, but the Holy Ghost has not changed. We hear many saying, 'But I'm prospering!' You are not prospering if you have left the truth and are headed to hell. Stand with the truth and don't let anything or anybody separate you from the love of God and God's truth. Holiness is not 'old school or old fashioned' as some would say, but rather let's speak out and let them know that the Holy Ghost (Christ in us) is Ancient and He has not changed" (see Dan 7:9-14, and 7:22 speaking of Jesus). "Jesus Christ the same yesterday, and to day, and for ever" Heb 13:8. Jesus existed before days were even created and He is from everlasting to everlasting. Praise God everybody!
Pastor explained that our flesh is at war with the Lord. "Because the carnal mind is enmity against God: for it is not subject to the law of God, neither indeed can be. 8 So then they that are in the flesh cannot please God" Rom 8:7-8. If we are walking in the flesh we are not obeying God; the flesh is not subject to anything God says. We have to mortify the flesh. Trial is necessary to break down the will of the flesh. It brings you to a place of trusting the Lord. Don't ask Him, "Why am I going through this?" Instead thank Him for it. Don't be over religious like Diotrephes who ruled the church in his own way regardless of what John said. There are some preachers who we cannot "eat" with. Love them but don't go their way. Jesus ate with publicans and sinners to draw them to Him. Don't let anybody "walk over" your Holiness. Let the Lord word your mouth when you are talking to them.
Minister Lucretia mentioned that hearts can be seared. People can run off from God with different interpretations of the Word, not realizing that there is only one truth and the truth will show itself out! Diotrephes didn't want to help preachers, so he had a "little cult" working there. He put himself in the place of God and cut off those that were teaching the truth. This is how cults are formed. Ananias and Sapphira were also deceitful workers. Their hearts were not right and they agreed together to tempt the Spirit of the Lord (read Acts 5:1-11). Some say, "You need to cut off the Old Testament and just use the New Testament." This is blasphemy and if you have cut off the Old Testament you have cut off God. Jesus Himself said, "Think not that I am come to destroy the law, or the prophets: I am not come to destroy, but to fulfil. 18 For verily I say unto you, Till heaven and earth pass, one jot or one tittle shall in no wise pass from the law, till all be fulfilled. 19 Whosoever therefore shall break one of these least commandments, and shall teach men so, he shall be called the least in the kingdom of heaven: but whosoever shall do and teach them, the same shall be called great in the kingdom of heaven. 20 For I say unto you, that except your righteousness shall exceed the righteousness of the scribes and Pharisees, ye shall in no case enter into the kingdom of heaven" Matt 5:17-20. We can see from this passage that only through Jesus do we have righteousness, but the law shows us God's standard and points out our sin. "Therefore by the deeds of the law there shall no flesh be justified in his sight: for by the law is the knowledge of sin" Rom 3:20.
Pastor Crowder said, "You have to have the Old to know the New because it shows you how to clean up." For example, "The woman shall not wear that which pertaineth unto a man, neither shall a man put on a woman's garment: for all that do so are abomination unto the LORD thy God" Deut 22:5. Jeremiah prophesied this concerning painting the face: "And when thou art spoiled, what wilt thou do? Though thou clothest thyself with crimson, though thou deckest thee with ornaments of gold, though thou rentest thy face with painting, in vain shalt thou make thyself fair; thy lovers will despise thee, they will seek thy life" Jer 4:30. He was prophesying to Jerusalem concerning their waywardness and spiritual harlotry; Jerusalem trying to allure her lovers (Egyptians, or other foreigners) to assist them against the Chaldeans, but in vain because those very allies they were seducing would join with their enemies. Jeremiah went about prophesying truth and they beat him and threw him in prison. It is necessary to "eat the whole scroll." Stay in the Word. We want to avoid even the appearance of evil. "Abstain from all appearance of evil" 1 Thess 5:22. Don't paint your face or eyes and do not dress like someone who is trying to seduce another. A smile will dress up your face beautifully and a clean heart will make your face shine and your eyes sparkle, this is all you need. A clean heart will let you know what clothes are appropriate to wear. The Holy Ghost in us will not allow us to cheapen ourselves. By the way, men that want to see women with painted faces and eyes and walking around in inappropriate lustful clothing have the same "prostitute" spirit as the woman that is dressing that way! This must be "swept out" of the church. Men watch what you are wearing too, what do you want to show to allure women? Kill that spirit now!
Co Pastor Lane added that you are like a "cult of one" if you are battling against the Word in your heart and secretly too! If you are disagreeing with the Word then you are a "cult of one." If you are offended by instructions from the Word or from your leaders who are being led by the Holy Ghost, then you are a "cult of one." We must be co-workers in the truth, so examine your life and see what part of your life is not lined up with the Word and pray for God to deliver you and help you overcome in that area. Co Pastor Lane spoke of the dream that God gave her. Here is the dream once again. She was cleaning the church and sweeping it with a broom. The church was bigger than our building here at GWOD having many more rooms. She was sweeping under a table and noticed a lot of fuzz or hair. She kept sweeping under this table to clean it up, but the fuzz and hair just seemed to multiply so she poked the broom at this mess under the table at it formed into the body of a fox with a rooster's head. Pastor Crowder was there with instructions and Co Pastor Lane and Co Pastor McCarty were to get that fox with the rooster's head out of the church. This fox/rooster rose up to fight as Co Pastor Lane continued to poke at it, laboriously trying to sweep it out of the church. Co Pastor McCarty was helping and He opened the door as Co Pastor Lane swept it out with the broom and he closed the door. She explained that this was a demon of retaliation, stubbornness, cunningness, and slyness that was hiding in the church. We must ask ourselves these questions: What part of me is not letting go of the world? What part of me is not delivered? Where am I coming against the Lord? Search your hearts right now and present yourself to God. "I beseech you therefore, brethren, by the mercies of God, that ye present your bodies a living sacrifice, holy, acceptable unto God, which is your reasonable service. 2 And be not conformed to this world: but be ye transformed by the renewing of your mind, that ye may prove what is that good, and acceptable, and perfect, will of God" Rom 12:1-2.
Pastor Crowder made clear the interpretation of the dream by saying: "Everybody has their own mind (many rooms, different rooms, different places). The broom represents a besom (a long-handled brush of bristles or twigs used for sweeping); in the Spirit a besom is a rod of correction. "All the kings of the nation, even all of them, lie in glory, every one in his own house. 19 But thou art cast out of thy grave like an abominable branch, and as the raiment of those that are slain, thrust through with a sword, that go down to the stones of the pit; as a carcase trodden under feet. 20 Thou shalt not be joined with them in burial, because thou hast destroyed thy land, and slain thy people: the seed of evildoers shall never be renowned. 21 Prepare slaughter for his children for the iniquity of their fathers; that they do not rise, nor possess the land, nor fill the face of the world with cities. 22 For I will rise up against them, saith the LORD of hosts, and cut off from Babylon the name, and remnant, and son, and nephew, saith the LORD. 23 I will also make it a possession for the bittern, and pools of water: and I will sweep it with the besom of destruction, saith the LORD of hosts" Isaiah 14:18-23. God is not pleased with preachers that are not lined up with Him. He is not going to bless us until we get right. He is going to cut out everything not like Him.
Pastor Crowder explained that this fox/rooster was hiding under the table and was molting or shedding. These are spirits and they are trying to hide: The fox represents anything deceiving and destructive that is trying to disrupt the church. This spirit doesn't mind deceiving you. "Now Tobiah the Ammonite was by him, and he said, Even that which they build, if a fox go up, he shall even break down their stone wall" Nehemiah 4:3. "O Israel, thy prophets are like the foxes in the deserts" Ezekiel 13:4. May I add that these prophets accelerated the ruin of their people. "Take us the foxes, the little foxes, that spoil the vines: for our vines have tender grapes" Song of Solomon 2:15. Again these foxes were being removed early on to prevent any destruction to the vines, teaching us to immediately remove any errors and heresies right from the beginning. "And he said unto them, Go ye, and tell that fox, Behold, I cast out devils, and I do cures to day and to morrow, and the third day I shall be perfected" Luke13:32. Jesus was calling Herod a fox. Herod had beheaded John the Baptist to gratify a wanton request from his wife, Herodias. She was trying to kill John the Baptist because he had spoken the truth to Herod saying that it was not lawful for him to have his brother Philip's wife; this truth made her angry. Don't forget that Herod's flesh was being seduced by a dance by Herodias' daughter, which lured him into making a wrong offer (see Mark 6:14-29). D

efinition

of fox: a carnivorous mammal of the dog family with a pointed muzzle and bushy tail, proverbial for its cunning; a cunning or sly person; a sexually attractive woman or man; a clever crafty person.
The rooster represents a spirit or attitude of arrogance or conceit that brings in rebellion. Definition of rooster: a male domestic fowl; an adult male chicken; a cock; a person regarded as cocky or pugnacious; a cocky or vain person. "And the Lord said, Simon, Simon, behold, Satan hath desired to have you, that he may sift you as wheat: 32 But I have prayed for thee, that thy faith fail not: and when thou art converted, strengthen thy brethren. 33 And he said unto him, Lord, I am ready to go with thee, both into prison, and to death. 34 And he said, I tell thee, Peter, the cock shall not crow this day, before that thou shalt thrice deny that thou knowest me" Luke 22:31-34. May I add that we need to be careful not to be self-confident (flesh) or you will surely fall. "Pride goeth before destruction, and a haughty spirit before a fall" Proverbs 16:18. It is interesting that Jesus used a rooster's crow to remind Peter of his sin of self-confident words spoken earlier, but then cursing and denying having known Jesus when he was questioned three times (see Matt 26:69-75). Jesus had told Peter that he was going to be sifted as wheat, but that He had prayed for him that his faith would not fail and when he was converted (the promise of salvation!) he would strengthen the brethren. It happened just as Jesus had said. Thank you Jesus for salvation and for being our intercessor!
We cannot drag our feet or be slothful any more. Sweep out these rebellious spirits of deception, apathy, cockiness, argumentativeness, slyness, craftiness, lying, lust and anything else not like God. We have been warned, so let's sweep it out now so that God will not have to raise up a besom of destruction to sweep it out. We must have the fullness of the Holy Ghost in our lives and be in prayer at all times. Ask God to fill you once again with His Spirit so that your cup is overflowing. Let's get in a place of prayer and seek His face and that means your children too, teach them to pray and seek God. Start by praising Him and thanking Him for who He is and then get into deep soul searching prayer. "Search me, O God, and know my heart: try me, and know my thoughts: 24 And see if there be any wicked way in me, and lead me in the way everlasting" Psalm 139:23-24. Let's keep our hearts clean and we will be very effective and blessed as co-workers of the truth in the Body of Christ, having the light of Christ shining in us. The Holy Ghost will keep us and His mighty power working in us will draw others to Christ. I love all of you dearly.