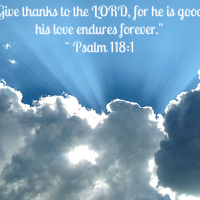 Praise God Everybody
by Sis. Jane Kimmes | June 3, 2015
Wow, did God speak to us today! If you were praising Him when you left today and are still praising Him even while you are reading this, then His Word fell on hearing ears! He spoke a very loud and clear Word to us today concerning whatever you are going through, whether good or bad, just Praise Him because He is in control. Keep your eyes on God. He showed us many facets of His love throughout the whole service. I will try to sum up what happened today, but if you want the full Word it would be best to ask for a CD of this powerful Word.
We studied 1 Cor 13:1-13 on love. I like to write out the Scriptures here because every time we read it God shows us some more about Himself. Don't just skim over it, really read it and meditate on it, this is God speaking to you. "Though I speak with the tongues of men and of angels, and have not charity, I am become as sounding brass, or a tinkling cymbal. 2 And though I have the gift of prophecy, and understand all mysteries, and all knowledge; and though I have all faith, so that I could remove mountains, and have not charity, I am nothing. 3 And though I bestow all my goods to feed the poor, and though I give my body to be burned, and have not charity, it profiteth me nothing. 4 Charity suffereth long, and is kind; charity envieth not; charity vaunteth not itself, is not puffed up, 5 Doth not behave itself unseemly, seeketh not her own, is not easily provoked, thinketh no evil; 6 Rejoiceth not in iniquity, but rejoiceth in the truth; 7 Beareth all things, believeth all things, hopeth all things, endureth all things. 8 Charity never faileth: but whether there be prophecies, they shall fail; whether there be tongues, they shall cease; whether there be knowledge, it shall vanish away. 9 For we know in part, and we prophesy in part. 10 But when that which is perfect is come, then that which is in part shall be done away. 11 When I was a child, I spake as a child, I understood as a child, I thought as a child: but when I became a man, I put away childish things. 12 For now we see through a glass, darkly; but then face to face: now I know in part; but then shall I know even as also I am known. 13 And now abideth faith, hope, charity, these three; but the greatest of these is charity" 1 Cor 13.
We learned that the greatest thing a church will have is love: God's love, loving God, loving others, saying a kind word, correction, repentance and much more. "He that loveth not knoweth not God; for God is love" 1 John 4:8. Eldress Mary said that love will cause you to admit your wrongs. Love will have you repenting to God and going back to the person to amend saying, "Please forgive me." "Confess your faults one to another, and pray one for another, that ye may be healed. The effectual fervent prayer of a righteous man availeth much" James 5:16. At this point in the service, God moved strongly on our hearts and many openly confessed their faults and spoke of areas where growth is needed. Our Pastor and Co Pastors encouraged and corrected the thinking of many so that none would be burdened by the weight of sin, condemnation or false thinking (their own interpretation of how things are). Thank God for the Body of Christ. Praise Him now everybody!
Co Pastor McCarty explained that after praying we are to set our faces like a flint and obey God and do it in love. For instance if God tells us to speak a Word to someone, we must ask God for the timing of when to say it and also how to say it. When we do this our attitudes will be in check and we will not be speaking out of any fleshly attitude or emotion! Co Pastor Lane added that love helps you to understand the other person and come to a point where you can both talk it out and come to an agreement. "Can two walk together, except they be agreed?" Amos 3:3. Come in love and sit down with the other person. Take time and listen to God for all of the pieces of the puzzle; be humble and don't fear. If we come in too strong due to how we were brought up, the other may look at you and say, "Why are you fussing?" just because they weren't raised that way. Listen to God and in this way the love of God will be there for you to minister to that person correctly.
It was brought up that if we shut up our bowels of compassion, how can God's love be in us. It is our obedience to God that shows our love. God loves us no matter if we are right or wrong, but He wants us to change. "But whoso hath this world's good, and seeth his brother have need, and shutteth up his bowels of compassion from him, how dwelleth the love of God in him?" 1 John 3:17. God's love in us will compel us to give this love out to others. It was God's love that brought us to the point of confessing our faults today. For each that confessed their faults, God brought cleansing to them and this helped and encouraged others to do the same. God is so good. "If we confess our sins, he is faithful and just to forgive us our sins, and to cleanse us from all unrighteousness. If we say that we have not sinned, we make him a liar, and his word is not in us." 1 John 1:9-10.
Just when you think God is finished speaking, watch out! You'd better keep looking and listening because He may have more to say! This is just what happened today as Co Pastor Lane broke out in a Praise to our God and said "We can do all things through Christ, it is the anointing that carries us through everything that we are facing. All it takes is a Praise, Hallelujah!" We all broke out into a praise to our God, the only true God, there is none like Him. Pastor Crowder sang the song, "Take the Lord along with you, you're going to need Him everywhere you go." Then God moved on her to give us a powerful word.
Here are the Scriptures and the Word of prophecy that God gave Pastor Crowder for the Body of Christ:
"You're going to have to keep your joy no matter what is going on in the world. Keep yourselves up in the Spirit in order for God to talk to us. We must have ears and sight."
Psalm 27:13-14 "I had fainted, unless I had believed to see the goodness of the LORD in the land of the living. 14 Wait on the LORD: be of good courage, and he shall strengthen thine heart: wait, I say, on the LORD." Some of us have "died out" because of what you are going through, but you have more than you think, God is supplying your need. Some people died in the flood waters and didn't have a chance to make it back home, but you made it home. Wait on God and He will strengthen you. Waiting means doing something for the Lord, it does not mean sitting still. God is taking some people home with Him because He knows they cannot go through what is coming here on this earth.
Psalm 91:1-2 "He that dwelleth in the secret place of the most High shall abide under the shadow of the Almighty. 2 I will say of the LORD, He is my refuge and my fortress: my God; in him will I trust." God is saying that He is going to protect you and take care of you. It is good to expose the devil, while at the same time keeping your eyes on God and trusting God: "I've had my down day, but God is everything I need right now and I will trust my God." He will give you what you need. God's purpose is to prevail. He controls everything. It may be that you need patience. Be patient, He is working something out of you!
Proverbs 19:20-21 "Hear council, and receive instruction, that thou mayest be wise in the latter end. 21 There are many devices in a man's heart; nevertheless the counsel of the LORD, that shall stand." Man plans in his heart, but God is saying, "If I say it won't work then don't try to make it work out, it is too much for you to handle." Pray instead, "Lord what is your plan so I can live in peace? What do You want me to do in this situation?" Listen to Him and receive His instructions. He will direct your paths.
Proverbs 20:24 "Man's goings are of the LORD; how can a man then understand his own way?" You don't understand your own way! Ask God to teach you how to hear Him and to understand His way.
Psalm 121:1-8 "I will lift up mine eyes unto the hills, from whence cometh my help. 2 My help cometh from the LORD, which made heaven and earth. 3 He will not suffer thy foot to be moved: he that keepeth thee will not slumber. 4 Behold, he that keepeth Israel shall neither slumber nor sleep. 5 The LORD is thy keeper: the LORD is thy shade upon thy right hand. 6 The sun shall not smite thee by day, nor the moon by night. 7 The LORD shall preserve thee from all evil: he shall preserve thy soul. 8 The LORD shall preserve thy going out and thy coming in from this time forth, and even for evermore." Since it is God's business let Him work it out. Get your eyes off of the problem and unto Him. You're looking down too much, look up! He won't let you fail. Trust God, He is so good to us. Don't care about how heavy the trial is, glorify the Lord. You're going to need Him, bless Him now. If you want Him to come into your presence, magnify the Lord. Magnify Him now, go ahead and give Him some praise. Hallelujah, Hallelujah, Hallelujah! Praise Him now so that when the trial comes you can give Him even more Hallelujah's. He will keep you from backsliding. Praise Him everybody. Give Him the best praise you have right now!
Pastor prophesied that times are getting bad and what is happening in the atmosphere is bad. We need the Blood of Jesus covering us, so pray and praise God while you can. Your praise will spare the person next to you. He will preserve us in our going out and our coming in. He will shield us. He hears your praises coming from you in your house, in your car, on the street, in church, and from every place that you are praising Him. Be patient and ask Him to help you wait out any trial. Don't let your services go down. If you are too quiet you are not prayed up. Our church is a city of refuge, we don't know what might happen next. Be faithful in your services. The false church will be packed out and sinning like a dog. There will be the faithful few at God's true church, so don't be moved and don't change the truth. Don't get weary in well doing. "And let us not be weary in well doing: for in due season we shall reap, if we faint not" Gal 6:9. When you get weary, you slack. God moved on Pastor Crowder to prophesy to us, "This is your time, you are all 'Joshuites.' This is your time 'Joshuites,' it is your working time."
Pastor spoke of her vision from God when she had been praying for provision after her husband had died. She had a dream that she and her house were taken up into a cloud and there were three angels there saying "We are at liberty to give you what you need." The Lord will visit you when you need him. Recently she had an open vision where a man (angel) stood at her feet, the lower part of his legs and feet were visible to her (from the calf down); again an angel at liberty to bless her. Praise God. Nothing is impossible with God. Jesus Christ lifts off all of the heavy weights.
What a wonderful move of God all morning, but God still had more for us. Elder Lane started travailing and spoke in tongues. Eldress Pam interpreted the tongues saying that God desires our praise, not just lip service but a spontaneous praise. We were exhorted to give Him praise. This was a confirmation to what had already transpired through the service. Sis. Pam then went into Jer 7:1-7 "The word that came to Jeremiah from the LORD, saying, 2 Stand in the gate of the LORD'S house, and proclaim there this word, and say, Hear the word of the LORD, all ye of Judah, that enter in at these gates to worship the LORD. 3 Thus saith the LORD of hosts, the God of Israel, Amend your ways and your doings, and I will cause you to dwell in this place. 4 Trust ye not in lying words, saying, The temple of the LORD, The temple of the LORD, The temple of the LORD, are these. 5 For if ye throughly amend your ways and your doings; if ye throughly execute judgment between a man and his neighbor; 6 If ye oppress not the stranger, the fatherless, and the widow, and shed not innocent blood in this place, neither walk after other gods to your hurt: 7 Then will I cause you to dwell in this place, in the land that I gave to your fathers, for ever and ever." Sis. Pam said that we grieve God by acting like everybody else (common) and that we must pray to stay connected to God. The definition of common is: occurring, found, or done often; prevalent; ordinary; of ordinary qualities; without special rank or position; of a sort or level to be generally expected; showing lack of taste and refinement; vulgar. Eldress Pam said that prayerlessness + common = religion. We were exhorted once again to amend and change it by asking God to tear it out and renew a right spirit in us. We are to be lively stones.
Wow, there you have it, one powerful Word today showing several dimensions of God's love to us here at GWOD. His Word can be so sweet, sharp, cutting, and precious all at once! He is God and He loves us so much that He desires us to grow more like Him every day. Don't you all feel His love right now? Let's respond to this Word with a big Amen and pray, praise, and obey the Lord! Let's amend our ways with His help. We are not common or religious in any way (read all of Acts 10) if so be that we fear God and have the gift of the Holy Ghost in us directing us (walking by faith in the Spirit), we are instead overcomers. I will close with this:

"

And they overcame him by the blood of the Lamb, and by the word of their testimony; and they loved not their lives unto the death" Rev 12:11. "Ye are of God, little children, and have overcome them: because greater is he that is in you, than he that is in the world" 1 John 4:4. "Who is he that overcometh the world, but he that believeth that Jesus is the Son of God?" I John 5:5. "Nay, in all these things we are more than conquerors through him that loved us"

Rom 8:37. Be

Blessed and stay connected to God by being filled with His Spirit. Walk in the Spirit, pray, praise our God, listen to His voice, trust Him, love Him, obey Him, be thankful and give out His love to others. I love all of you very much.