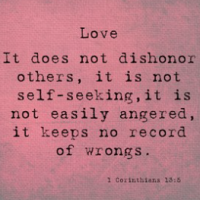 Perfected Love
by Sis. Jane Kimmes | April 15, 2015
How's your heart right now? Do you feel God's peace? Is God's love shed abroad in your hearts by the Holy Ghost? Just talk to Jesus and meditate on His word and He will strengthen you in any area of concern or weakness; His grace is sufficient for you and His power is made perfect in your weakness. Are you going through a trial or running low on peace and love? Well, don't worry, just get into prayer to stir up the Holy Ghost in you. Rom 5:1-5 says,"Therefore being justified by faith, we have peace with God through our Lord Jesus Christ: 2 By whom also we have access by faith into this grace wherein we stand, and rejoice in hope of the glory of God. 3 And not only so, but we glory in tribulations also: knowing that tribulation worketh patience; 4 And patience, experience; and experience, hope: 5 And hope maketh not ashamed; because the love of God is shed abroad in our hearts by the Holy Ghost which is given unto us."

There now, don't you feel better already? I know I do! God's love was displayed on the cross; a love that was willing to die for mankind lost in sin, so that we could have eternal life in Him. Love encompasses the giving of ourselves and this means not just talking about God's love or feeling His love, but also the actions of giving out His love through us (by the Holy Ghost) to others, forgiving others, praying for those that persecute you, helping others (saved and unsaved) in their need and pointing them to Jesus. This is a love that is willing to die for another. Let's pray together right now this prayer: Lord God, perfect your love in each of us by the power of the Holy Ghost, Amen.
Today at GWOD, in 1 John 3:11-24, we were reminded to love one another. Go ahead and read it again! Meditate on God's Word and let it get deep into your heart. "For this is the message that ye heard from the beginning, that we should love one another. 12 Not as Cain, who was of that wicked one, and slew his brother, And wherefore slew he him? Because his own works were evil, and his brother's righteous. 13 Marvel not, my brethren, if the world hate you. 14 We know that we have passed from death unto life, because we love the brethren. He that loveth not his brother abideth in death. 15 Whosoever hateth his brother is a murderer: and ye know that no murderer hath eternal life abiding in him. 16 Hereby perceive we the love of God, because he laid down his life for us: and we ought to lay down our lives for the brethren. 17 But whoso hath this world's good, and seeth his brother have need, and shutteth up his bowels of compassion from him, how dwelleth the love of God in him? 18 My little children, let us not love in word, neither in tongue; but in deed and in truth. 19 And hereby we know that we are of the truth, and shall assure our hearts before him. 20 For if our heart condemn us, God is greater than our heart, and knoweth all things. 21 Beloved, if our heart condemn us not, then have we confidence toward God. 22 And whatsoever we ask, we receive of him, because we keep his commandments, and do those things that are pleasing in his sight. 23 And this is his commandment, That we should believe on the name of his Son Jesus Christ, and love one another, as he gave us commandment. 24 And he that keepeth his commandments dwelleth in him, and he in him. and hereby we know that he abideth in us, by the Spirit which he hath given us."
Sis. Mary asked, "What was Cain's love like?" Able's works were righteous and Cain's were evil. Heb 11:4 says, "By faith Abel offered unto God a more excellent sacrifice than Cain, by which he obtained witness that he was righteous, God testifying of his gifts: and by it he being dead yet speaketh." Able's obedience in his excellent sacrifice is speaking to us even today. God accepted Abel's offering but did not accept Cain's offering (read Gen 4). Cain got angry at this and God spoke to him letting him know, "If thou doest well, shalt thou not be accepted? and if thou doest not well, sin lieth at the door. And unto thee shall be his desire, and thou shalt rule over him" Gen 4:7. Cain had a choice (a chance to repent), but chose not to obey God's words and in his anger he chose to murder his brother, Able. God spoke to him again but Cain felt his punishment was to great to bear and he went out from the presence of the LORD. Wow, an example NOT to follow; it is so necessary to obey God's voice from the beginning and to stay in his presence. You might be saying, "I have never murdered anybody, thank God," but we can and do commit murder in our hearts. Jesus explained it deeper for us in 1 John 3:15, "Whosoever hateth his brother is a murderer: and ye know that no murderer hath eternal life abiding in him." Jesus said, "Ye have heard that is was said of them of old time, Thou shalt not kill; and whosoever shall kill shall be in danger of the judgment: 22 But I say unto you, That whosoever is angry with his brother without a cause shall be in danger of the judgment: and whosoever shall say to his brother, Raca, shall be in danger of the council: but whosoever shall say, Thou fool, shall be in danger of hell fire" Matt 5:21-22.

Today through Jesus Christ, no matter what we have done, if we come to Jesus by faith and stay in His presence, we will be saved.
Concerning love, Sis. Ollie brought up FTT (failure to thrive), a medical term referring to abnormal growth in babies or children. When babies are rejected by their mothers, they do not thrive. She explained that we are created to be loved. When babies don't receive the cuddling, rocking, and the needed attention that is so necessary, they do not grow and they can die. To prevent this from happening, other people are brought in to love these babies and they begin to thrive and grow. The mothers are sent to parenting classes to be taught how to care for their child. We all need love and we must learn to give love to others and receive love, only through God can we do this properly. Those who have not been loved as a child must be taught by other Godly people and more importantly by God, how to love and how to receive love.
Pastor Crowder made it clear that those who have had no love at home, look for love from other people at church, but they may not find it at church because many of us are still growing in love too! That is why it is so important to go to God first; read His Word to learn of His love and receive His love as you talk with Him in prayer. Also if you have not had hugging and kissing at home and someone in church comes up to you with hugs and kisses, well, it will be uncomfortable for you. They must understand that you are growing in God and you will be taught by Him the right way to receive their love and also how to express your love back to them. The one giving the hugs and kisses must understand this and not be offended, but instead be patient and continue to love the other that doesn't know how to love; with lovingkindness will you draw them. "The LORD hath appeared of old unto me, saying, Yea, I have loved thee with an everlasting love: therefore with lovingkindness have I drawn thee" Jer 31:3. Husbands and wives, if you have stopped speaking to each other, your love is not real. Go back to the altar and let God fill that place. If any of us here at GWOD have stopped speaking to one another, our love is not pure. We must all go back to Christ in prayer on the altar and pray through.
By the power of the Holy Ghost in us we can love the prostitute, the drunkard, the thief, the lost and bring them on in. They don't want to be in the condition they are in, they need Jesus. Co Pastor Lane said, "Sometimes it is necessary to sacrifice our lives for others. It is important to be a faithful witness and to give of ourselves to others. Don't shut yourselves up in your home! We have to know what God has put us here to do. Stir up the gift in you and God will respond to every word that you speak to a soul. Be patient and loving and at the same time God will build you up."
Eldress Pam preached a strong word on loving others and loving those that talk against you. She began with Psalm 27:1-4 "The LORD is my light and my salvation; whom shall I fear? the LORD is the strength of my life; of whom shall I be afraid? 2 When the wicked, even mine enemies and my foes, came upon me to eat up my flesh, they stumbled and fell. 3 Though an host should encamp against me, my heart shall not fear: though war should rise against me, in this will I be confident. 4 One thing have I desired of the LORD, that will I seek after; that I may dwell in the house of the LORD all the days of my life, to behold the beauty of the LORD, and to enquire in his temple." Don't be afraid of what comes your way or rises up against you, God is bringing us into the perfection of His likeness.
John 3:16-21 "For God so loved the world, that he gave his only begotten Son, that whosoever believeth in him should not perish, but have everlasting life. 17 For God sent not his Son into the world to condemn the world; but that the world through him might be saved. 18 He that believeth on him is not condemned: but he that believeth not is condemned already, because he hath not believed in the name of the only begotten Son of God. 19 And this is the condemnation, that light is come into the world, and men loved darkness rather than light, because their deeds were evil. 20 For every one that doth evil hateth the light, neither cometh to the light, lest his deeds should be reproved. 21 But he that doth truth cometh to the light, that his deeds may be made manifest, that they are wrought in God." Eldress Pam explained that we must love those in and out of the church. When someone speaks falsely against you or does something to harm you, just say, "Father, forgive them; for they know not what they do" Luke 23:34. Speak it with your heart and not just with your lips. Don't fall by the wayside when you are talked about, instead stay strong in the Lord. Sometimes you can fall into condemnation because you have listened to what others have said and not to what God has said. Believing God as you are going through a trial causes God's love to take root. To overcome condemnation begin to look for the good and don't concentrate on what is wrong; cast your burden on Jesus and He will sustain you. Read His promise here, "Cast thy burden upon the LORD, and he shall sustain thee; he shall never suffer the righteous to be moved" Psalm 55:22. Are you feeling condemned? Come to the light, God is greater than our hearts and knows all things. Stop looking around at the circumstances and just obey the instructions God has given you; he will give you the next step. Get rid of anything not like God. Good will come out of this. "There is therefore now no condemnation to them which are in Christ Jesus, who walk not after the flesh, but after the Spirit" Rom 8:1. Say out loud, "I will not sway, I will wait patiently, I will be of good courage." If you are in Christ, you are being made more like Him.

Be of good courage.
We ended with 1 Cor 13 which sums up everything concerning love. Prayerfully meditate on every Word and then go and be a doer of God's Word! "Though I speak with the tongues of men and of angels, and have not charity, I am become as sounding brass, or a tinkling cymbal. 2 And though I have the gift of prophecy, and understand all mysteries, and all knowledge; and though I have all faith, so that I could remove mountains, and have not charity, I am nothing. 3 And though I bestow all my goods to feed the poor, and though I give my body to be burned, and have not charity, it profiteth me nothing. 4 Charity suffereth long, and is kind; charity envieth not; charity vaunteth not itself, is not puffed up, 5 Doth not behave itself unseemly, seeketh not her own, is not easily provoked, thinketh no evil; 6 Rejoiceth not in iniquity, but rejoiceth in the truth; 7 Beareth all things, believeth all things, hopeth all things, endureth all things. 8 Charity never faileth: but whether there be prophecies, they shall fail; whether there be tongues, they shall cease; whether there be knowledge, it shall vanish away. 9 For we know in part, and we prophesy in part. 10 But when that which is perfect is come, then that which is in part shall be done away. 11 When I was a child, I spake as a child, I understood as a child, I thought as a child: but when I became a man, I put away childish things. 12 For now we see through a glass, darkly; but then face to face: now I know in part; but then shall I know even as also I am known. 13 And now abideth faith, hope, charity, these three; but the greatest of these is charity."
Remember to pray for one another and stand strong in God's Word. I love you all very much.