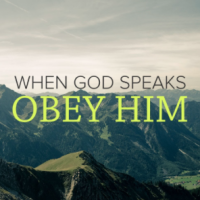 Obey God, Get Rid of Selfishness
by Sis. Jane Kimmes | June 23, 2015
Are we walking in selfishness? Are we selfish? If you were at GWOD today you will quickly be changing your ways if you detected any selfish ways in yourself. Selfishness cannot be a part of the Body of Christ. Read Amos 6:1-14 and let's give ourselves a selfishness checkup. If you see any of these sins in you, let's repent quickly. "Woe to them that are at ease in Zion, and trust in the mountain of Samaria, which are named chief of the nations, to whom the house of Israel came! 2 Pass ye unto Calneh, and see; and from thence go ye to Hamath the great: then go down to Gath of the Philistines: be they better than these kingdoms? or their border greater than your border? 3 Ye that put far away the evil day, and cause the seat of violence to come near; 4 That lie upon beds of ivory, and stretch themselves upon their couches, and eat the lambs out of the flock, and the calves out of the midst of the stall; 5 That chant to the sound of the viol, and invent to themselves instruments of musick, like David; 6 That drink wine in bowls, and anoint themselves with the chief ointments: but they are not grieved for the affliction of Joseph. 7 Therefore now shall they go captive with the first that go captive, and the banquet of them that stretched themselves shall be removed. 8 The LORD God hath sworn by himself, saith the LORD the God of hosts, I abhor the excellency of Jacob, and hate his palaces: therefore will I deliver up the city with all that is therein. 9 And it shall come to pass, if there remain ten men in one house, that they shall die. 10 And a man's uncle shall take him up, and he that burneth him, to bring out the bones out of the house, and shall say unto him that is by the sides of the house, Is there yet any with thee? and he shall say, No. Then shall he say, Hold thy tongue: for we may not make mention of the name of the LORD. 11 For, behold, the LORD commandeth, and he will smite the great house with breaches, and the little house with clefts. 12 Shall horses run upon the rock? will one plow there with oxen? for ye have turned judgment into gall, and the fruit of righteousness into hemlock: 13 Ye which rejoice in a thing of nought, which say, Have we not taken to us horns by our own strength? 14 But, behold, I will raise up against you a nation, O house of Israel, saith the LORD the God of hosts; and they shall afflict you from the entering in of Hemath unto the river of the wilderness."
This speaks of God's impending judgement on Israel and Judah. Their sins of selfishness and pleasure were as great as the sins of the surrounding heathen cities which caused destruction to come to these cities. Israel and Judah, God's chosen people, were caring only for themselves and rejecting God's commands. In despair and fear, they were afraid to speak God's name, for fear of what more might happen to them. How sad! Are we guilty of these same sins of rejecting God, selfishness and indifference? Are we addicted to pleasure and comfort? God will punish us just as He punished Israel and Judah if we do not turn from our wicked ways. God sent prophets to warn them, but they would not listen. Does this sound familiar GWOD? Instead of relying on God and obeying Him, they abused their power by oppressing many and carried out everything in their own strength, all according to their own desires and pleasures. In other words, they did it their own way and for their own "well-being." Lord have mercy on us that we can learn from this example and not be found in this depraved state of mind.
Co Pastor Lane began teaching the lesson with the definition of selfishness. Selfishness: the quality or condition of being selfish. Selfish: devoted to or caring only for oneself; concerned primarily with one's own interest, benefits, welfare, etc., regardless of others; concerned excessively or exclusively with oneself; seeking or concentrating on one's own advantage, pleasure, or well-being without regard for others. She went on to say that the church (just like Israel and Judah) is full of three D's: deceitfulness, disobedience and lack of dedication and this is all due to selfishness. It is all about "Me, Myself, and I." We must humble ourselves and return to God. When God speaks to you do not harden you hearts, instead say, "Lord, I surrender." Israel and Judah sinfully indulged in God's provisions to gratify their own flesh, taking even the first of the flock for their own stomachs. In searching our hearts we too will find that we are using His provisions (gifts of the Spirit, homes, jobs, cars, finances, our bodies, etc.) for our own lusts rather than for helping others. God forgive us.
Co Pastor Lane gave us many examples on how to mortify the flesh. Control your tongue by praying. Sometimes silence is best when you are about to say something you should not say. "And that ye study to be quiet, and to do your own business, and to work with your own hands, as we commanded you; 12 That ye may walk honestly toward them that are without, and that ye may have lack of nothing" 1 Thess 4:11-12. Notice here, that we are to walk honestly toward them that are without. Use the dominion and power you have in the Holy Ghost to stop the selfishness and excesses of the flesh. She asked an important question, "Why is the flesh alive anyway?" It means that we are not filled with the Spirit and we must pray to be filled and delivered of any fleshly areas that rise up. Tarry on the altar. Get rid of the same sin that you repeat over and over. Yield to the will of God. The "spirit of religion" will make you always have to be right. The "spirit of religion" will also make you quiet and bring forth a "spirit of assent" whereby you agree with the Word saying, "Amen," but you have NO intention of following through. God allowed Israel and Judah a space of repentance but they did not turn from their ways. This is a Word of warning to us and to anybody reading this. Be careful, God is not mocked, He will do what He says He will do. He has not changed, He is the same yesterday, today, and forever. "Be not deceived; God is not mocked: for whatsoever a man soweth, that shall he also reap. 8 For he that soweth to his flesh shall of the flesh reap corruption; but he that soweth to the Spirit shall of the Spirit reap life everlasting" Gal 6:7-8.
In a trial we go to prayer because we want to get out of pain. This is a form of selfishness too! God is trying to deliver us from "Me, Me Me" "Myself, Myself, Myself" and "I, I, I" and bring us into the mindset of "We, We, We." We are the body of Christ and Jesus Christ is the head. "And he is the head of the body, the church: who is the beginning, the firstborn from the dead; that in all things he might have the preeminence. 19 For it pleased the Father that in him should all fulness dwell; 20 And, having made peace through the blood of his cross, by him to reconcile all things unto himself; by him, I say, whether they be things in earth, or things in heaven. 21 And you, that were sometime alienated and enemies in your mind by wicked works, yet now hath he reconciled. 22 In the body of his flesh through death, to present you holy and unblameable and unreproveable in his sight: 23 If ye continue in the faith grounded and settled, and be not moved away from the hope of the gospel, which ye have heard, and which was preached to every creature which is under heaven; whereof I Paul am made a minister;" Col 1:18-23. By faith, we follow and obey Jesus, walking in the Spirit daily. "This I say then, Walk in the Spirit, and ye shall not fulfil the lust of the flesh" Gal 5:16. He is our Saviour and our keeper. He (Christ in us) is our strength, hope and joy. Praise Him now.
We must listen and know when God is speaking to us. Know the Word by the Spirit and test the spirit by the Spirit. "Beloved, believe not every spirit, but try the spirits whether they are of God: because many false prophets are gone out into the world. 2 Hereby know ye the Spirit of God: Every spirit that confesseth that Jesus Christ is come in the flesh is of God: 3 And every spirit that confesseth not that Jesus Christ is come in the flesh is not of God: and this is that spirit of antichrist, whereof ye have heard that it should come; and even now already is it in the world. 4 Ye are of God, little children, and have overcome them: because greater is he that is in you, than he that is in the world. 5 They are of the world: therefore speak they of the world, and the world heareth them. 6 We are of God: he that knoweth God heareth us; he that is not of God heareth not us. Hereby know we the spirit of truth, and the spirit of error" 1 John 4:1-6. Keep your connection with God and others in the body of Christ. Get ready to be used of God by saying, "Lord, here I am send me." Praise God.
If we are easily offended something is wrong. This means that some things from the past need to be forgiven. Forgiveness is powerful. Find out where your faulty thinking came from and when it started. Someone at church may look or act like someone from your past who hurt you. Forgive that person from the past and don't transfer your past feelings onto this innocent messenger of God causing you to reject the message being preached through this person! Be open and surrender to what God wants to do in you. Ask Him to take away "your way of thinking." This innocent messenger of God may be the one who brings a message of deliverance for you.
Co Pastor Lane mentioned that having "designated" (someone programmed for each Wed, Fri, and Sunday service) prayer leaders, Scripture leaders, teachers, etc., may be hindering the move of God because it leaves many out and some of the "designated" people may not be the right one for the move of God that day. The same few are always programmed and then we wonder why the others are not growing! We must be open to what God wants. He wants all of us active. She mentioned how back in the days, Pastor Crowder would have the microphone pass from one person to another at the altar and in this way all would be active in leading the prayer. Also, if there were no "designated" teachers, Scripture leaders, prayer leaders etc., everybody would have to be ready and we wouldn't just sit due to the fact that it is the "designated" leader's job that day, when God is moving on another person to pray or teach the Word other than the "designated" person. This is good! We can all be free and ready to move ahead as the Spirit leads! This will give the Holy Ghost free reign and God will have His way. With God having His way, everything will be done decently and in order. Amen.
Pastor Crowder then stood up to exhort and instruct us concerning ridding ourselves of selfishness and moving in the Holy Ghost. "That ye put off concerning the former conversation the old man, which is corrupt according to the deceitful lusts; 23 And be renewed in the spirit of your mind; 24 And that ye put on the new man, which after God is created in righteousness and true holiness. 25 Wherefore putting away lying, speak every man truth with his neighbour: for we are members one of another" Eph 4:22-25. If you are selfish you are thinking only about yourself and not the needs of others. We must "feel" one another through the Holy Ghost here in the church building and also on the street, at work, in our neighborhoods and in our homes; even in all places across the globe. Israel and Judah had disrespected God totally. They did what they wanted to do. You need to give the "first of the sacrifice" to the Lord. This means the "first" of everything you do. You cannot serve God and mammon (yourself)! "No man can serve two masters: for either he will hate the one, and love the other; or else he will hold to the one, and despise the other. Ye cannot serve God and mammon" Matt 6:24. God will not hear our prayers in this selfish condition.
Overseer Crowder continued with the following Scriptures and their meaning:
Proverbs 15:8-9 "The sacrifice of the wicked is an abomination to the LORD: but the prayer of the upright is his delight. 9 The way of the wicked is an abomination unto the LORD: but he loveth him that followeth after righteousness." When we are in a place of prayer with God and not selfish it is a delight for the Lord. All it takes is a righteous mind (the mind of Christ) and obedience. You don't need long prayers. The anointing is Jesus Christ Himself.
Proverbs 15:29-30 "The LORD is far from the wicked: but he heareth the prayer of the righteous. 30 The light of the eyes rejoiceth the heart: and a good report maketh the bones fat." The lesson that we had today came to us to purify us from something that is in the way: selfishness (which includes dishonesty, disobedience, and lack of dedication). He has heard our prayers. Praise God everybody.
Proverbs 21:27-29 "The sacrifice of the wicked is abomination: how much more, when he bringeth it with a wicked mind? 28 A false witness shall perish: but the man that heareth speaketh constantly. 29 A wicked man hardeneth his face: but as for the upright, he directeth his way." It is a terrible thing not to be honest with God. Some of us are doing things only because it is our duty and/or so Pastor and the leaders will get off of our backs. We are not doing it out of our love for God. This is a spirit of lying. How many of us are going to let God direct our ways? (I'm reminded of Proverbs 3:5-6, "Trust in the LORD with all thine heart; and lean not unto thine own understanding. 6 In all thy ways acknowledge him, and he shall direct thy paths.")
Proverbs 28:9-10 "He that turneth away his ear from hearing the law, even his prayer shall be abomination. 10 Whoso causeth the righteous to go astray in an evil way, he shall fall himself into his own pit: but the upright shall have good things in possession." When we say, "Amen," it needs to be said from our hearts meaning, "I love you Lord," but instead we say it out of habit or custom. You must say "Amen" with your heart meaning, "The Word is right, be it so." Then act in obedience to what you have said "Amen" to. Let's rejoice and say "Amen" from our hearts to the Word spoken to us today and obey what was spoken to us. The Word is just good isn't it! God is so Good. Do what God is telling you to do here at GWOD. Say, "Yes Lord" from your belly and obey Him. Don't be the cause of people going astray.
Pastor Crowder conclude with Proverbs 1:24-33 which Eldress Pam preached on a couple of weeks ago (Proverbs 1:20-33). Out of the mouth of two or three witnesses (Pastor Crowder and Eldress Pam in this case) is God's Word confirmed unto us. "This is the third time I am coming to you. In the mouth of two or three witnesses shall every word be established" 2 Cor 13:1. Listen up saints and obey. This same passage of Scripture has come to us twice in just two weeks. God is talking to us. Are we going to refuse His Word and turn our backs on God? No, we must hear His Word and obey so that we can dwell safely and be quieted from the fear of evil just as He promises.
Proverbs 1:24-33 "Because I have called, and ye refused; I have stretched out my hand, and no man regarded; 25 But ye have set at nought all my counsel, and would none of my reproof: 26 I also will laugh at your calamity; I will mock when your fear cometh; 27 When your fear cometh as desolation, and your destruction cometh as a whirlwind; when distress and anguish cometh upon you. 28 Then shall they call upon me, but I will not answer; they shall seek me early, but they shall not find me: 29 For that they hated knowledge, and did not choose the fear of the LORD: 30 They would none of my counsel: they despised all my reproof. 31 Therefore shall they eat of the fruit of their own way, and be filled with their own devices. 32 For the turning away of the simple shall slay them, and the prosperity of fools shall destroy them. 33 But whoso hearkeneth unto me shall dwell safely, and shall be quiet from fear of evil."

God has stretched out His hand to us. Come "alive" so that we can give strength and life to someone else that is struggling. Don't just say, "I'm going to be all right." Israel and Judah were not all right even though they believed they were, after all they were living the "good life!" They ignored God's word and they were not all right. Pastor stated that the leaders were taken into captivity first. We must stay anointed because of what is coming upon the United States (destruction). Live for God everybody. Scripture says that they called but He did not answer. He is saying they will not find Him. They abhorred a true Prophet and they refused to accept God. Don't despise instruction and don't lie. Do what you say you are going to do, be accountable. God allowed them to eat of their own fruit and destruction came to Israel and Judah. Get it right church.
Well, what must we all do now? First of all pray and be filled with the Holy Ghost each and every day. We must hear and obey God daily and turn from any wicked ways. We must all study the Word to show ourselves approved unto God. We must welcome His counsel and bring back the fear of the Lord into our lives. Pastor explained that what we do outside of the will of God causes a curse to come upon our children and grandchildren. Cut off the curse from the family line. Get the sin out of you so that your light will shine and bring your children in. Be like yourself and Jesus, don't try to be like someone else. We live under the "Eyes of God" and we are blessed because of this. Our eyes and ears need to be open always and we must see and feel. Don't rely on Pastor Crowder to do this for you. If you don't see and feel (in the Holy Ghost) then you are in danger. Trust in God by faith and rely on Him. Be encouraged and obey God and don't forget to thank Him and Praise Him. He will lift you up.