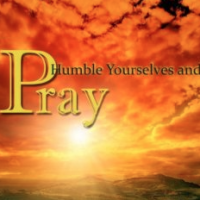 Humble Yourselves
by Sis. Jane Kimmes | June 8, 2015
The message from last week continued into today as God spoke to us once again warning us to amend our ways. "Thus saith the LORD; For three transgressions of Judah, and for four, I will not turn away the punishment thereof; because they have despised the law of the LORD, and have not kept his commandments, and their lies caused them to err, after the which their fathers have walked: 5 But I will send a fire upon Judah, and it shall devour the palaces of Jerusalem. 6 Thus saith the LORD; For three transgressions of Israel, and for four, I will not turn away the punishment thereof; because they sold the righteous for silver, and the poor for a pair of shoes; 7 That pant after the dust of the earth on the head of the poor, and turn aside the way of the meek: and a man and his father will go in unto the same maid, to profane my holy name: 8 And they lay themselves down upon clothes laid to pledge by every altar, and they drink the wine of the condemned in the house of their god" Amos 2:4-8. This is a message to each of us and I believe it is also a message to our nation, because we no longer live in a God fearing nation. At best what we can all do is humble ourselves, pray, seek His face and turn from our wickedness. "If my people, which are called by my name, shall humble themselves, and pray, and seek my face, and turn from their wicked ways; then will I hear from heaven, and will forgive their sin, and will heal their land" 2 Chron 7:14.
Minister Cynthia encouraged us to pray and not to faint. "And he spake a parable unto them to this end, that men ought always to pray, and not to faint;" Luke 18:1. The iniquity of Judah and Israel had reached its completion and God could no longer ignore it, so He spoke judgement to them and to the pagan nations around them (read all of Amos 1, 2). The lesson stated that God's patience had come to an end and He was going to act because Israel and Judah had ignored Him and violated His Word. If we also are not doing what God says, we are just as guilty as Judah and Israel and God will act. This is a warning and we know that God acted on what He had said He was going to do. So we must be obedient to His Word. We must stand for righteousness and "sound the alarm for those in danger." God is saying, "Stop, look, and listen." We must get rid of our "own ways." We were asked the question, "Can we cross the line with God?" The answer is yes we can and He will judge. However, if we repent and turn back to Him, He responds with such mercy.
God continued speaking this urgent warning to us through Eldress Pam. "We take God for granted and have lost the fear of God. Judgement can fall on you and it can fall on all of us even if just one is disobedient. It is time to seek the heart of God. Are we doing all that we know to do? Or are we asleep and think that we are OK and all is well?" "This know also, that in the last days perilous times shall come. 2 For men shall be lovers of their own selves, covetous, boasters, proud, blasphemers, disobedient to parents, unthankful, unholy, 3 Without natural affection, truce breakers, false accusers, incontinent, fierce, despisers of those that are good, 4 Traitors, heady, highminded, lovers of pleasures more than lovers of God; 5 Having a form of godliness, but denying the power thereof: from such turn away" 2 Tim 3:1-5.
Sis. Pam continued with Proverbs 1:20-31. Read it carefully, listen to God and change your ways. "Wisdom crieth without; she uttereth her voice in the streets: 21 She crieth in the chief place of concourse, in the openings of the gates: in the city she uttereth her words, saying, 22 How long, ye simple ones, will ye love simplicity? and the scorners delight in their scorning, and fools hate knowledge? 23 Turn you at my reproof: behold, I will pour out my spirit unto you, I will make known my words unto you. 24 Because I have called, and ye refused; I have stretched out my hand, and no man regarded; 25 But ye have set at nought all my counsel, and would none of my reproof: 26 I also will laugh at your calamity; I will mock when your fear cometh; 27 When your fear cometh as desolation, and your destruction cometh as a whirlwind; when distress and anguish cometh upon you. 28 Then shall they call upon me, but I will not answer; they shall seek me early, but they shall not find me: 29 For that they hated knowledge, and did not choose the fear of the LORD: 30 They would none of my counsel: they despised all my reproof. 31 Therefore shall they eat of the fruit of their own way, and be filled with their own devices. 32 For the turning away of the simple shall slay them, and the prosperity of fools shall destroy them. 33 But whoso hearkeneth unto me shall dwell safely, and shall be quiet from fear of evil." I would like to add here that if we hear God and amend our ways by staying humble, praying, seeking His face, and turning from our wicked ways each and every day; He will keep us safe and give us peace and we will not fall into the calamity and desolation spoken of in Proverbs 1. How awful will it be for those that call upon Him and He will not answer back and they will not be able to find Him (read Rom 1). We must hold the truth in righteousness.
Minister Pam explained that God is crying out to us and some have not paid attention. We have therefore rejected the truth and our own circumstances (due to impotence) are "

laughing

" at you and "mocking" you. Sin separates us from God. Trouble will happen because of disobedience. Our sins bring retribution upon us. Many people don't want to stay in the presence of God anymore because they don't have the "fear" of God. We must take heed to God's warning today. There should be a "seeking after God." When you pray God will come to your rescue. We all need one another and must be connected as though we are an unbroken chain. Cry on the altar and say, "It is me Lord, I need you, I need a clean heart, I'm determined to change, etc." Don't give up! Wisdom is crying out on the streets, do you have ears to hear God? Stay teachable with a tender heart. Pride needs to come down. Take down your own way and do it God's way.
Co Pastor McCarty closed out the service by telling us not to take God's judgement lightly. We are to hear, repent, and turn from our ways. He pointed out that we can "get with" the teaching on judgement, and we can "get with" the repentance but that we have trouble "getting with" the praise. Understand that praise opens the doors for your deliverance. Through praise you and your circumstances will be changed, it will turn both you and your situation around. It can change God's judgement on us.
Well, I'm praising God right now just for who He is. Praise Him with me! Tell Him how Wonderful He is and thank Him for being your Counsellor, your Mighty God, and your Everlasting Father. Thank Him for speaking to you personally. Acknowledge Him in all of your ways and tell of His mighty acts. Trust that He is your Prince of Peace and that He is in control. "For unto us a child is born, unto us a son is given: and the government shall be upon his shoulder: and his name shall be called Wonderful, Counsellor, The mighty God, The everlasting Father, The Prince of Peace. 7 Of the increase of his government and peace there shall be no end, upon the throne of David, and upon his kingdom, to order it, and to establish it with judgment and with justice from henceforth even for ever. The zeal of the LORD of hosts will perform this" Isaiah 9:6-7.
I'm headed into prayer right now while at the same time making sure that I have on the whole armour of God (all of it) and I hope that you are doing the same. "Finally, my brethren, be strong in the Lord, and in the power of his might. 11 Put on the whole armour of God, that ye may be able to stand against the wiles of the devil. 12 For we wrestle not against flesh and blood, but against principalities, against powers, against the rulers of the darkness of this world, against spiritual wickedness in high places. 13 Wherefore take unto you the whole armour of God, that ye may be able to withstand in the evil day, and having done all, to stand. 14 Stand therefore, having your loins girt about with truth, and having on the breastplate of righteousness; 15 And your feet shod with the preparation of the gospel of peace; 16 Above all, taking the shield of faith, wherewith ye shall be able to quench all the fiery darts of the wicked. 17 And take the helmet of salvation, and the sword of the Spirit, which is the word of God: 18 Praying always with all prayer and supplication in the Spirit, and watching thereunto with all perseverance and supplication for all saints; 19 And for me, that utterance may be given unto me, that I may open my mouth boldly, to make known the mystery of the gospel, 20 For which I am an ambassador in bonds: that therein I may speak boldly, as I ought to speak"

Eph 6:10-20.

Now after humbling ourselves, praying, seeking His face, turning from any wicked ways, praising and worshipping our God it is time to go and s

peak the Word boldly as we ought to speak, always in truth and in love, to bring others out of darkness and into His marvelous light, this do every day. Be Blessed and stay strong in the Lord. I love you.