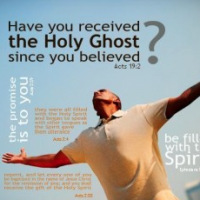 Have You Received The Holy Ghost Since You Believed?
by Sis. Jane Kimmes | March 11, 2015
At GWOD today, God came in with His Spirit of Comfort and Truth as we studied the following scriptures from John 14:15-26
"If ye love me, keep my commandments. 16 And I will pray the Father, and he shall give you another Comforter, that he may abide with you for ever; 17 Even the Spirit of truth; whom the world cannot receive, because it seeth him not, neither knoweth him: but ye know him; for he dwelleth with you, and shall be in you. 18 I will not leave you comfortless: I will come to you. 19 Yet a little while, and the world seeth me no more; but ye see me: because I live, ye shall live also. 20 At that day ye shall know that I am in my Father, and ye in me, and I in you. 21 He that hath my commandments, and keepeth them, he it is that loveth me: and he that loveth me shall be loved of my Father, and I will love him, and will manifest myself to him. 22 Judas saith unto him, not Iscariot, Lord, how is it that thou wilt manifest thyself unto us, and not unto the world? 23 Jesus answered and said unto him, If a man love me, he will keep my words: and my Father will love him, and we will come unto him, and make our abode with him. 24 He that loveth me not keepeth not my sayings: and the word which ye hear is not mine, but the Father's which sent me. 25 These things have I spoken unto you, being yet present with you. 26 But the Comforter, which is the Holy Ghost, whom the Father will send in my name, he shall teach you all things, and bring all things to your remembrance, whatsoever I have said unto you."
These words were from Jesus to His Apostles as He prepared them for His departure. These same words are fresh, alive and active for us today and "speak volumes" in instructing us concerning the Holy Ghost and receiving the Holy Ghost. Better yet we have the manifestation of this Promise in us, if we have received the Holy Ghost (Christ in us, the Spirit of God in us, the Comforter, the Spirt of truth). We must love and obey Him and be filled with the Holy Ghost and overflowing at all times. As virtue goes out, which it will as you minister, you must pray and be filled again and again; never empty but rather full and overflowing. We must be like the wise virgins (read Matt 25:1-13) who took oil in their vessels with their lamps. They were ready with enough oil even though the Bridegroom tarried. The Bridegroom will not come when you expect Him to come! Have enough oil (Holy Ghost in you) because you do not know when He will come for you personally or for His bride collectively, the glorious church. Eph 5:25-27

"Husbands, love your wives, even as Christ also loved the church, and gave himself for it; 26 That he might sanctify and cleanse it with the washing of water by the word, 27

That he might present it to himself a glorious church, not having spot, or wrinkle, or any such thing; but that it should be holy and without blemish."
We've had many encouraging and comforting Words over the past several weeks which were necessary and good, but today as Sis. Crumbley was teaching and testifying, God moved on Eldress Pam to give us a sharp and cutting Word concerning obedience. Why? Because God desires that we grow continually in Him and therefore He will not allow us to sit on our (may I call it) "comfort seat" for too long! When Eldress Pam started preaching, the Word was direct and piercing and I was reminded of Heb 4:12-13
"For the word of God is quick, and powerful, and sharper than any twoedged sword, piercing even to the dividing asunder of soul and spirit, and of the joints and marrow, and is a discerner of the thoughts and intents of the heart. 13 Neither is there any creature that is not manifest in his sight: but all things are naked and opened unto the eyes of him with whom we have to do."
I'm so happy that God knows what he is doing with each of us and everybody in the whole world too; saved and unsaved. He created all of us and He knows just what to do to bring each of His own unto Him.
Eldress Pam began with

"For Thine is the kingdom, and the power, and the glory forever. Amen."

(Matt 6:13). She continued, "Your salvation was the seed, but have you received the Holy Ghost since you believed?" (Acts 19:1-6). "The Holy Ghost is your power. You have to want it and you have to ask for it. The Holy Ghost is the illuminator, so now you can see!" We were exhorted to be obedient to God.

She continued by saying, "

Some of us think we have it, but we don't have anything. If you don't have the Holy Ghost ask for it." Luke 11:13

"If ye then, being evil, know how to give good gifts unto your children: how much more shall your heavenly Father give the Holy Spirit to them that ask him?"

She said, "If you do have the Holy Ghost, ask for more and get more!" God is faithful and desires that we have more of Him. He will do as He says; His Word is forever settled in heaven.
On timidity, she said, "The Holy Ghost will give you power over timidity, just get up and open your mouth. He will speak through you with His Words." She went on to say that titles mean nothing, but if God gives you a title it is a promotion in Him only. We don't get the Holy Ghost through works, but it is necessary to pray and ask to be filled. Get up early and pray! She mentioned how Jesus' words "cut" so don't be offended when the word comes to you and "cuts" you. Yes, it hurts! If Pastor told you "You are this, this, and this" don't get offended. Go to God and ask Him about it and He will give you an understanding. God is making you even more fruitful for Himself, not for yourself. Are you growing or in the same place? Gal 2:20

"I am crucified with Christ: nevertheless I live; yet not I, but Christ liveth in me: and the life which I now live in the flesh I live by the faith of the Son of God, who loved me, and gave himself for me."
If we seek Him we will find Him.

Jer 29:13

"And ye shall seek me, and find me when ye shall search for me with all your heart."

"

We must decrease in our own personality and we will receive God. Pray, listen and obey. Get more of the Holy Ghost, we do not have enough." She made an interesting illustration about discerning God's voice. "Everybody is talking on their cell phones at the same time and all of these signals are passing through the airways all at the same time, but which voice is God's voice? Can you discern His voice from the other voices?

We are to love each other. On a bright day the sun's rays spread out with brightness and warmth, so embrace one another." She said, "If you get offended by this Word being brought to you today, then something is wrong in you. We get offended when we are told how we really are! The Word is sharp and cuts where it needs to cut. Go to "Wisdom" and find out what is wrong if you feel offended, you need His help. Keep praying, your answer may be held up due to war in the heavenlies." (Dan 10:8-21 and Eph 6:10-20)

.
Jesus asked Peter three times, do you love me? (read John 21). Love God with your whole heart, soul, mind, and strength. Sis. Crumbley and Eldress Pam were transparent with their testimonies and encouraged us to do the same, stating that there is no shame in it anymore, but God will instead use your testimony to help others. The Blood has washed us clean. Co Pastor McCarty closed by telling us to take off the mask and stop faking; some have been faking too long. He closed with Jude 1:24-25
"Now unto him that is able to keep you from falling, and to present you faultless before the presence of his glory with exceeding joy, 25 To the only wise God our Saviour, be glory and majesty, dominion and power, both now and ever. Amen."
Be Blessed everybody and continue to seek His face. Ask for wisdom and more of the Holy Ghost. Allow the Holy Ghost in you to: give life, speak, pray, teach you all things, reveal, reveal the deep things of God, instruct, testify of Jesus, guide into all truth, comfort, love, fill, free, produce fruit, give gifts, convict, unite, unify, help, give directions, bring to remembrance, bear witness, wash, renew, quicken, strengthen, bring joy, give love, give peace, lead, bring about obedience, transform, sanctify, empower, heal, speak in diverse tongues, cast out demons, and oh so much more! He is the Spirit of Truth! We are just touching the surface of all that God is and what He will do in our lives for His Kingdom, His Glory, and His Name's sake. There is much more. He has the answers we are looking for, just ask Him. Walk in the Spirit everybody and we will not fulfill the lust of the flesh. Jesus said this about the Comforter, the Holy Ghost,

"And when he is come, he will reprove the world of sin, and of righteousness, and of judgment: 9 Of sin, because they believe not on me; 10 Of righteousness, because I go to my Father, and ye see me no more; 11 Of judgment, because the prince of this world is judged."

(John 16:8-11). Stay strong in the Lord by His Spirit. I love you very much.