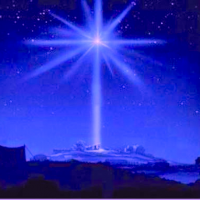 Glory to God in the Highest
by Sis. Jane Kimmes | December 23, 2014
What was it like that night when the angel appeared unto the shepherds and said,

"Fear not; for, behold, I bring you good tidings of great joy, which shall be to all people. For unto you is born this day in the city of David a Saviour, which is Christ the Lord."

Luke 2:10-11 They were given instructions that the babe would be wrapped in swaddling clothes, lying in a manger. Suddenly, along with that angel, was a multitude of heavenly host praising God, saying,

"Glory to God in the highest, and on earth peace, good will toward men."

Luke 2:14 The shepherds went with haste to see the babe which the Lord had made known unto them and after seeing the babe they told many people (spread abroad) these things which had been spoken unto them concerning this child. All that heard wondered about the things that the shepherds had told them. Wondered is defined as having a feeling of surprise mingled with admiration, caused by something beautiful, unexpected, unfamiliar, or inexplicable. The shepherds returned glorifying and praising God for all that they had heard and seen, just as it was told unto them.
So what does this mean for us today? We are the "shepherds" today proclaiming this good news to many. God has spoken to us through His Son and we have direct access to God through this babe Jesus, by His Spirit living in us. Whoever believes that Jesus is the Christ is born of God. So what are you waiting for? Let's get busy and spread abroad this good news that Jesus is the Christ who was born of a virgin, suffered, died for our sins according to the Scriptures, and rose again so that we could have eternal life through Him. Those listening will wonder at what they have just heard and will either receive Him believing and confessing Jesus as their Lord and Saviour or reject Him. Our job is to spread the news so they can hear.

"For God so loved the world, that he gave his only begotten Son, that whosoever believeth in him should not perish, but have everlasting life. For God sent not his Son into the world to condemn the world; but that the world through him might be saved."

John 3:16-17
In downtown Houston today as I was about to get into my car to return home, suddenly there was a multitude of loud beautiful church bells ringing and echoing from building to building spreading this good news by ringing a praise song speaking of our Saviour: "Joy to the world the Lord is come; let earth receive her King; let every heart prepare him room, and heaven and nature sing..." This was the most beautiful thing to hear with the different pitched joy bell sounds bouncing from one tall building and echoing to another, joyously ringing in honor of our Saviour, in the air throughout all of downtown Houston. I was caught up in the Spirit due to the beautiful sounds and started praising God. Now if the bells can ring praises for all to hear, how much more you and I with our mouths! This was a joyous celebration and I'm sure many nonbelievers heard it and wondered! Let's pray that many will be saved and pray that God will use us to bring many souls unto Him.
"And we know that the Son of God is come, and hath given us an understanding, that we may know him that is true, and we are in him that is true, even in his Son Jesus Christ. This is the true God and eternal life."
1 John 5:20
Have a Blessed Christmas, love and worship God, study His Word, pray one for another, and remember to pour out His love to others in words and deeds reaching out further in
His love. Don't forget to give Him the Glory and thank Him out loud! I love all of you dearly.