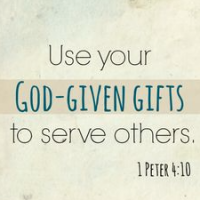 Gifts of the Spirit
by Sis. Jane Kimmes | May 11, 2015
Hope all of you are having a wonderful Mother's day. We have all been touched by our mothers and I thank God that He has put each one of us in the family of His choosing, all for our good and for His purposes. Some of you are mothers right now. Does this mean that you will be the perfect mother? No, you will make mistakes. None of us can say that we have not made any mistakes! So if you have an offense toward your own mother, forgive her, love her, and honor her and remember that you are not perfect either! "Honour thy father and mother; which is the first commandment with promise; 3 That it may be well with thee, and thou mayest live long on the earth" Eph 6:2-3. Honour thy father and thy mother: that thy days may be long upon the land which the LORD thy God giveth thee" Exodus 20:12. Any situation that you are in right now, or for that matter, have grown up in, God has ordained it for your life and He will perfect that which concerns you. He will equip you in handling each of the situations including healing the residue from the past, and also helping you at this present time and in the future. So with God's help we can overcome any situation and rest safely in this assured hope, by faith, because we know that He is in control. Let's thank God for our mothers that birthed us and for our mothers that adopted us and for our church mothers! It goes even further than that, thank him for your grandmothers, great grandmothers, great great grandmothers...! Tell them how much you love them, not just on Mother's day but every day.
Today at GWOD, once again, we were Blessed to have the gifts of the Spirit working and we were encouraged to let God have His way in us. It is important to remember that if Pastor Crowder has seated us for any number of reasons then we are not free to use these gifts until God has released us and it is confirmed by her approval and instructions to us, then everything will be done decently and in order "Let all things be done decently and in order" 1 Cor 14:40. That being said God has equipped the church body with every perfect Gift that comes from above. "Every good gift and every perfect gift is from above, and cometh down from the Father of lights, with whom is no variableness, neither shadow of turning" James 1:17. We must have the Holy Ghost to receive the gifts of the Spirit. Every gift of the Spirit is the Holy Ghost working in and through us. We do not pick and choose which gifts we will have, instead they are given to us by God and according to His pleasure. For example, He may use you in all nine gifts mentioned in 1 Cor 12 or He may have you operating in one gift at one time and in several other gifts at another time, it is up to Him not us!
We studied 1 Cor 12:1-11, go ahead read it again. Meditate on it and get an understanding so you can move in the Spirit as led by the Holy Ghost: "Now concerning spiritual gifts, brethren, I would not have you ignorant. 2 Ye know that ye were Gentiles, carried away unto these dumb idols, even as ye were led. 3 Wherefore I give you to understand, that no man speaking by the Spirit of God calleth Jesus accursed: and that no man can say that Jesus is the Lord, but by the Holy Ghost. 4 Now there are diversities of gifts, but the same Spirit. 5 And there are differences of administrations, but the same Lord. 6 And there are diversities of operations, but it is the same God which worketh all in all. 7 But the manifestation of the Spirit is given to every man to profit withal. 8 For to one is given by the Spirit the word of wisdom; to another the word of knowledge by the same Spirit; 9 To another faith by the same Spirit; to another the gifts of healing by the same Spirit; 10 To another the working of miracles; to another prophecy; to another discerning of spirits; to another divers kinds of tongues; to another the interpretation of tongues: 11 But all these worketh that one and the selfsame Spirit, dividing to every man severally as he will" 1 Cor 12:1-11.
Minister Cynthia explained these nine gifts beautifully and then summed it up by saying, "Every gift works by love because God is love. The gifts come from the Lord for the purpose of helping someone else (see 1 Cor 12:7). The Spirit will let you know when souls are asking for help. They may say it differently (such as by hinting), but you will discern by the Spirit what they are asking." She said, "When you go through something it is to help someone else, so encourage people with your testimony and help others. If you are weary when doing God's work then you are doing it wrong. Go out and get a soul." Somebody else added that when we work too hard, we are not trusting God.
Co Pastor Lane asked, "Why aren't the gifts stirred up in some of us?" She continued by saying that our focus is not in the right place and we are instead focusing on trying to "get perfect." The disciples were with Jesus and learning from Him and they became apostles after first being disciples. We all have our own set of issues but just say, "Lord, here am I" and let Him use you. We are the clay and He is the potter. You were already formed into something, but He will put you on the wheel and break you in order to re-form you into a vessel fit to His liking so He can use you. She explained that everybody has natural gifts and those with the Holy Ghost have spiritual gifts too. God will use all of them. If you have the Holy Ghost even your natural gifts will be enhanced. Many of us are "in pride" and will not move out because we might make a mistake. She explained that God has whom He wants here at GWOD for His purposes, just like He had whom He wanted in the upper room there on the day of Pentecost even with their frailties, doubts, and errors; all for His purposes of spreading the gospel, building the church, ministering to the people, etc. They received power to do God's work after the Holy Ghost came upon them (read Acts 1 and 2). All you have to do is to be ready, wanting and be filled with the Holy Ghost daily. Don't let trial defeat you or set you back. Trial motivated the Disciples, why doesn't it motivate us? Elder Robert Lane pointed out that many are looking for the natural and not for the Spirit. "Dirt attracts dirt but the Spirit attracts Spirit. Leave the dirt alone, don't hang unto the dirt."
Eldress Pam made clear the whole lesson by explaining that when we are given a gift in the natural, you keep it because it is yours, but this is not so with God's gifts. God's gifts are given to you to give back to Him and to help others. "It was given to you to give it away. It is not given to you to make you feel above or superior to somebody else or to make you feel good about yourself! Nor was it given to you to sit on it and not use it. The Spiritual gift empowers you above your regular capacity and it moves through you by the Holy Ghost onto others, causing a change in them. One reason we don't use the gift is because when corrected we carry an offense, so we either draw up or run ahead of God. If you aren't connected to God you won't have the flow." She continued by saying that God is to be glorified by the gifts, not you! We all need the gifts that you have and many things can cause one to be stifled, but stir up the Holy Ghost and let Him use you. The gifts are not yours they are His and they are to be given away. Think in the Spiritual and have trust and faith in God, not in yourself. God is in control.
Well, this was wonderful today but we definitely are not finished studying about the gifts of the Spirit. There is so much more to learn and understand so that we can minister effectively as the Holy Ghost leads. It takes a deeper prayer life, seeking God daily through the Word, listening to Him and being filled to overflowing daily; in other words, walking in the Spirit! As I said earlier, some of us are seated down and in training and do not have permission yet to use the gifts God has given us, but hold on because it won't be long and God will have His way in each of us. So stay in the Word, in prayer, in worship and be obedient to God and to the Leaders He has put over us. Be blessed and may I suggest that we all read and get an understanding of 1 Cor 12, 13, 14; Rom 12; 1 Pet 4:7-11; Eph 4 and Isaiah 11:1-3. In these Scriptures we can see many of the gifts and how to use them: Word of wisdom, Word of knowledge, Prophecy, Tongues, Interpretation, Healings, Miracles, Discerning of spirits, Faith, Ruling (Leadership), Mercy, Giving, Helps, Exhortation, Ministering/Serving, Hospitality, Teaching, Administrations, Apostles, Prophets, Evangelists, Pastors/Shepherds, Teachers and more. In Isaiah 11:2-3, we see the Spirit of the Lord, the Spirit of Wisdom and Understanding, Counsel and Might, Knowledge and the Fear of the Lord; all of which we must have active through the Holy Ghost. And don't forget to have the fruit of the Spirit active too: "But the fruit of the Spirit is love, joy, peace, longsuffering, gentleness, goodness, faith, 23 Meekness, temperance: against such there is no law" Gal 5:22-23.
I see other Godly characteristics that go along with these gifts such as: cheerfulness, simplicity, brotherly love, fervency in Spirit, rejoicing in hope, prayerfulness and much more! Here it is, this is too good to leave out, but don't forget to read 1 Cor 12-14 and Eph 4 on your own! "I beseech you therefore, brethren, by the mercies of God, that ye present your bodies a living sacrifice, holy, acceptable unto God, which is your reasonable service. 2 And be not conformed to this world: but be ye transformed by the renewing of your mind, that ye may prove what is that good, and acceptable, and perfect, will of God. 3 For I say, through the grace given unto me, to every man that is among you, not to think of himself more highly than he ought to think; but to think soberly, according as God hath dealt to every man the measure of faith. 4 For as we have many members in one body, and all members have not the same office: 5 So we, being many, are one body in Christ, and every one members one of another. 6 Having then gifts differing according to the grace that is given to us, whether prophecy, let us prophesy according to the proportion of faith; 7 Or ministry, let us wait on our ministering: or he that teacheth, on teaching; 8 Or he that exhorteth, on exhortation: he that giveth, let him do it with simplicity; he that ruleth, with diligence; he that showeth mercy, with cheerfulness. 9 Let love be without dissimulation. Abhor that which is evil; cleave to that which is good. 10 Be kindly affectioned one to another with brotherly love; in honour preferring one another; 11 Not slothful in business; fervent in spirit; serving the Lord; 12 Rejoicing in hope; patient in tribulation; continuing instant in prayer; 13 Distributing to the necessity of saints; given to hospitality. 14 Bless them which persecute you: bless, and curse not. 15 Rejoice with them that do rejoice, and weep with them that weep. 16 Be of the same mind one toward another. Mind not high things, but condescend to men of low estate. Be not wise in your own conceits. 17 Recompense to no man evil for evil. Provide things honest in the sight of all men. 18 If it be possible, as much as lieth in you, live peaceable with all men. 19 Dearly beloved, avenge not yourselves, but rather give place unto wrath: for it is written, Vengeance is mine; I will repay, saith the Lord. 20 Therefore if thine enemy hunger, feed him; if he thirst, give him drink: for in so doing thou shalt heap coals of fire on his head. 21 Be not overcome of evil, but overcome evil with good" Rom 12:1-21.
"But the end of all things is at hand: be ye therefore sober, and watch unto prayer. 8 And above all things have fervent charity among yourselves: for charity shall cover the multitude of sins. 9 Use hospitality one to another without grudging. 10 As every man hath received the gift, even so minister the same one to another, as good stewards of the manifold grace of God. 11 If any man speak, let him speak as the oracles of God; if any man minister, let him do it as of the ability which God giveth: that God in all things may be glorified through Jesus Christ, to whom be praise and dominion for ever and ever. Amen" 1 Pet 4:7-11.
"And there shall come forth a rod out of the stem of Jesse, and a Branch shall grow out of his roots: 2 And the spirit of the LORD shall rest upon him, the spirit of wisdom and understanding, the spirit of counsel and might, the spirit of knowledge and of the fear of the LORD" Isaiah 11:1-3. In closing, only through the Holy Ghost is it possible to minister as God would have us do. I love all of you dearly.