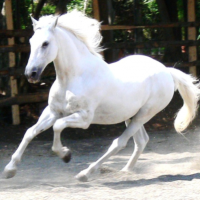 Get Up
by Sis. Jane Kimmes | November 24, 2014
Hello all at GWOD,
Wow, what a Powerful move of God again. Can it get even better? Yes, it can. Arise and eat everybody. Immerse yourselves in what was taught today (Sunday) from Ezek 47:23, Prov 16:1-9 and 1 Kings 19:1-15. Go over it again and again, act on it, obey it, speak it, believe it, and shout it out loud. Shout: We're in the Living water having received our inheritance. We are out from under the Juniper tree. We have been fed a hot meal and our thirst has been satisfied for the journey. We're out of the cave and standing up on Mount Horeb receiving the Word of God. No more "brown mules!" Jesus already rode the mule triumphantly so we would not have to. He now wants us on His white horses clothed in fine linen, white and clean and He is leading on His white horse. So get ready because we have His sure Word that He is coming on a white horse. He is preparing us as part of His Army and all of His white horses are ready for us to "step up" onto and soar on High with Him in Victory. So as Pastor Crowder prophesied, "Get up, get up, get up, get up, get up, get up, get up. Let Him wash us so we can enjoy His Inheritance." God knows our weaknesses and in our weaknesses His strength is made perfect (2 Cor 12:9).
Another very important thing that we all need to work on is what Co Pastor Lane said, "We really don't know each other." I think it would be nice if we got to know each other more on a personal level one by one or two by two. That means that just knowing you from over the pulpit or over a church gathering where we whimsically pretend to know each other is not enough. Really knowing each other takes time and effort, just like getting to know God takes time alone with Him in prayer, in the Word, talking with Him, listening to Him, and really having a relationship with Him. This does not happen just by observing what we see of Him during the services! Well, the same in relationships. Let's not just talk and visit with our favorite few and leave the rest of the body out. I really want to get to know all of you personally from the Head (Pastor Crowder) to the toe (one of us is the toe) from the youngest baby to the eldest adult, not leaving any out. I want to meet your family members that don't go to GWOD too. The Word says to be witnesses unto me both in Jerusalem, and in all Judea, and in Samaria, and unto the uttermost part of the earth (Acts1:8). We start at home and then spread out to the world. We can start with each other right away.
I'm praying for the young lady that was so touched by God today. Also praying that we will be stronger as a Body - glorious, holy, without spot, wrinkle, blemish or any such thing (Eph 5:27). I will do my best with God's help to get to know you one by one or two by two in person. Please help me in this area. This is where God's strength is made perfect in us.
If you see anyone sitting or sleeping under their Juniper tree, help them out and point them to Jesus, and let Him do His Work! Oh, I hear the "still small voice" do you? I will wrap myself in His Mantle and obey. Be Blessed and "Get up" and walk in the Spirit. Arise and Eat. I love all of you very much.
11 And I saw heaven opened, and behold a white horse; and he that sat upon him was called Faithful and True, and in righteousness he doth judge and make war. 12 His eyes were as a flame of fire, and on his head were many crowns; and he had a name written, that no man knew, but he himself. 13 And he was clothed with a vesture dipped in blood: and his name is called The Word of God. 14 And the armies which were in heaven followed him upon white horses, clothed in fine linen, white and clean. 15 And out of his mouth goeth a sharp sword, that with it he should smite the nations: and he shall rule them with a rod of iron: and he treadeth the winepress of the fierceness and wrath of Almighty God. 16 And he hath on his vesture and on his thigh a name written, King Of Kings, And Lord Of Lords. Rev 19:11-16
Love, Sis. Jane (See attached photos. A picture is worth many words)