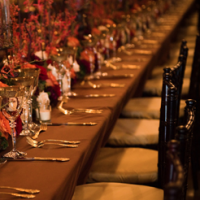 Feasting and Fasting
by Sis. Jane Kimmes | February 4, 2015
We had a powerful five-course Feast today at GWOD beginning with fervent prayer followed by Scripture with W

orship, teaching, powerful preaching and ending with a refreshing serving of fruit, the fruit of the Spirit in joyful Praise and Worship. The miraculous thing about this Feast was that the food, from the hors d'oeuvres to the dessert, all had the Meat of the Word with Anointing and Power. We tasted and saw that the LORD is good. There was plenty for all who came and not one that tasted this "food" left hungry. My cup is still overflowing, I hope yours is too! This Feast is the result of a Fast. We have been Fasting from the flesh and from the things of this world and turning to God in intercessory prayer, seeking His Face. When we seek His face He Blesses us Powerfully.
The lesson began with Dan 1:5, 8-17. Sis. Crumbley explained the details of the captivity of these four young Hebrew boys in Babylon and Co Pastor Lane pointed out that if we are in the lion's den or in the fiery furnace we are not to fear. We will stand strong because of our heritage in Christ. The four Hebrew boys were in captivity but it had nothing to do with who they were or what they had done. In fact, God's favor was with these four and they were taken by King Nebuchadnezzar's chief eunuch because they were skillful in all wisdom, cunning in knowledge, and in understanding science. Therefore they were chosen to stand in the king's palace and learn the language of the Chaldeans. These skillful and cunning abilities were from God. Daniel was not afraid to ask for permission to deny the king's meat because he had been "
trained" in the Mosaic Law for many years before they were taken into captivity. God was with him and he chose to remain faithful to God. Co Pastor Lane said to remember what you have been "trained in" (God's Word, Grace through Jesus) so that when you are going through a trial, you will not be touched by the flames nor will you fear the lions, because God is with you. What you are going through, God will use for the deliverance of others.
In summary, the four Hebrew boys stayed separated unto God by abstaining from the portion of the king's meat. They were not going to defile themselves. God gave these four boys favor and gave them knowledge and skill in all learning and wisdom and Daniel had understanding in all visions and dreams. Please read Dan 1:5, 8-17.
All of our abilities come from God and He will use us to deliver others as we continue to stay separated unto Him and not partake in the things of this world that defile our minds or our bodies. We are the temple of the Holy Ghost and we are to be Holy even as He is Holy. We must never defile our minds or bodies. Sis. Crumbley stated, "These four held firm to what God had taught them. We too must hold firm to everything we have been taught." I would like to say that there are repercussions for ignoring God's directives and willfully choosing sin. The Word says in Gal 6:7,

"Be not deceived; God is not mocked: for whatsoever a man soweth, that shall he also reap."

What are you sowing? Ask yourself that question! Then ask God to help you to sow whatever pleases Him; things such as repentance, confessing your faults, obedience, teachability, holy living, worship, prayer, service, witnessing, forgiveness, love, joy, peace, longsuffering, goodness, gentleness, faith, meekness, temperance, studying the Word, spreading the Word and much more!
The lesson went on to Matt 6:16-18
"Moreover when ye fast, be not, as the hypocrites, of a sad countenance: for they disfigure their faces, that they may appear unto men to fast. Verily I say unto you, They have their reward. 17 But thou, when thou fastest, anoint thine head, and wash thy face; 18 That thou appear not unto men to fast, but unto thy Father which is in secret: and thy Father, which seeth in secret, shall reward thee openly."
Sis. Crumbley mentioned that fasting lets you know where you are with God. She also brought up the "alloy and gold" teaching from Pastor Crowder explaining that when we go though trials, we become stronger. The alloy (trial) is necessary to strengthen and stabilize the gold (you). Gold, the pure metal is too soft on its own and it is therefore necessary to combine it with other metals so it can be used in many ways. God uses these trials to make us strong and ready for His work.
Next came a power packed Word preached by Co Pastor McCarty straight from God's mouth to us. He began by saying that he was still Feasting on last weeks prophetic Word spoken by Pastor Crowder as she had prophesied, "The Gate is open, go in." He went on to say that some of us have not gone in, even though the Gate is open. He encouraged all of us to walk on in!
He continued preaching from 2 Sam 9:3-8

"And the king said, Is there not yet any of the house of Saul, that I may shew the kindness of God unto him? And Ziba said unto the king, Jonathan hath yet a son, which is lame on his feet. 4 And the king said unto him, Where is he? And Ziba said unto the king, Behold, he is in the house of Machir, the son of Ammiel, in Lodebar. 5 Then king David sent, and fetched him out of the house of Machir, the son of Ammiel, from Lodebar. 6 Now when Mephibosheth, the son of Jonathan, the son of Saul, was come unto David, he fell on his face, and did reverence. And David said, Mephibosheth. And he answered, Behold thy servant! 7 And David said unto him, Fear not: for I will surely shew thee kindness for Jonathan thy father's sake, and will restore thee all the land of Saul thy father; and thou shalt eat bread at my table continually. 8 And he bowed himself, and said, What is thy servant, that thou shouldest look upon such a dead dog as I am?"
Co Pastor McCarty spoke concerning Mephibosheth's words,

"What is thy servant, that thou shouldest look upon such a dead dog as I am?"

He explained that some of us are feeling this same way, so unworthy that we are not going in through the Gate. God is saying "Come in, you have an Inheritance" and we feel so unworthy that we don't go in. It is like a dog that has been chained to a tree, running in circles year after year. When the owner takes the chain off the dog, he still runs in circles around the tree thinking he is still chained to it. Stand up and walk through the Gate, it is open. The chain is broken. It is time to get up from this place of your past hurts and go in. It doesn't matter how you feel, the King has called you to come up higher. The King had summoned Mephibosheth, it didn't matter that he felt like a "dead dog" and had been crippled due to his nurse dropping him at age five. Go in today and embrace your future. What has hurt you? What is it that keeps you running in circles like the dog chained to the tree? What invisible chain is holding you? You have been released, you are free from this confinement. God wants you to get up from that place and do His work. Say now, "I'm releasing this hurt, I'm releasing this pain."
David remembered his covenant with Jonathan and called for Mephibosheth to come. Mephibosheth obeyed and came. King David told him not to fear and showed him kindness for Jonathan, his father's sake and restored to him all of Saul's land and gave him a seat at the King's table so he could eat bread continually. This is what God is saying to us, "The Gate is open, go in." Let's Praise Him now. He is saying, "I am here." This is a picture of what Jesus has done for us, so step into you Inheritance. We have been encouraged to leave Lodebar, our place of safety. Lodebar helped you while you were hurt, but now God is calling you to come out of that lonely and isolated place. You were taken care of by others in Lodebar, but it is now time for you to leave that place and step in the Gate and learn from God for yourself. He is taking you to another place in Him and He will restore you and teach you. You are no longer an outcast, the chain is broken, you are free at last. John 10:10
"The thief cometh not, but for to steal, and to kill, and to destroy: I am come that they might have life, and that they might have it more abundantly."
Matt 11:28-29
"Come unto me, all ye that labour and are heavy laden, and I will give you rest. Take my yoke upon you, and learn of me; for I am meek and lowly in heart: and ye shall find rest unto your souls."
We ended with Eph 1:3

"Blessed be the God and Father of our LORD Jesus Christ, who hath blessed us with all spiritual blessings in heavenly places in Christ:"

Praise and Worship broke forth throughout the house and God was pleased. Keep praising Him and if you have not gone in the Gate yet, please go in now, He is there waiting for you. Both the visible and the invisible chains that were holding you back from His Inheritance have been broken, so walk on in. Thank Him for Blessing us with all spiritual blessings in heavenly places in Christ. We have Feasted today, but tomorrow's menu includes some Fasting. So put away your fleshly desires and seek Him even more and watch how He responds with His love. I love you all very much.