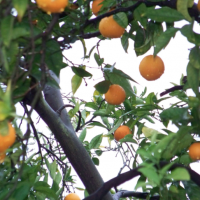 Don't Shake Your Fruit Tree (Part 1)
by Sis. Jane Kimmes | January 13, 2015
Wow, how do I put today's service into words! Well, with God directing my fingers to type, here we go. It began with prayer and as Eldress Jefferson was transitioning from the prayer and moving in the Spirit, she told us of a dream she had. In her dream was a tree with fruit on it. At first they looked like grapefruit but they were really oranges. She was told not to shake the tree, stating that this fruit represented her labor, her ministry, a Word from God letting her know not to shake the tree or the fruit could fall off. Pastor interpreted the meaning of this dream later in the service which I will get to later!
Then God immediately moved on Minister Esther after she read Psalm 27:1-6 and she began to prophesy letting us know that God wanted to move freely among us, "So lay down whatever is hindering you, have joy, praise Him and be joyful no matter what has happened or what is going on. He wants the best for you, He wants to Bless you."
Eldress Mary continued on with praise and began to teach the lesson from John 17:6-21. She mentioned that we come to church to lift up Jesus and then He elevates us. She called out, "Saturate me Jesus, I don't want to be the same." We all shouted out those same words from our hearts. She asked the question, "How can we identify Christian unity in the church." The answer was in our love for one another, love for Jesus, and working together in unity. She pointed out that the disciples that Jesus was praying for were not accidental followers, they belonged to Jesus and the Father. May I say the same is true for us today, God chose us, it is not by accident that we are followers of Jesus Christ, we belong to God!

"Ye have not chosen me, but I have chosen you, and ordained you, that ye should go and bring forth fruit, and that your fruit should remain: that whatsoever ye shall ask of the Father in my name, he may give it you."

John 15:16
Well, Pastor was being stirred up by God and could not keep it in any longer, so she got up and what can I say except that we were all "Saturated" with a rich word direct from God Himself which I will get into below. So church, if we receive this word and act upon it, we will not be the same. Sis. Mary's request was instantly answered not only for her, but also for us and we were Blessed by God as He moved freely in His Word to us. Thank you God for Blessing us today. Thank you for moving freely through Pastor Crowder and our ministers to speak to us so clearly. I pray that He will be able to move through each one of us freely, using all of us mightily.
We know that when Pastor gets up something is going to happen! There is never a dull moment. Why is this, it is because she gets the information directly from God by the Holy Ghost. She explained that she does not get it from the internet but goes to the Word herself and God speaks. Also if she doesn't get it from the Word at that point in time she will just listen and He drops it into her. Last week I did a word search on pray, prayer, supplication, and intercession by typing these words into a Bible search page and came up with all of the scriptures containing these words. As I read them, I was praying for Wisdom and direction. I came out saturated in His Word.

He will speak to us in different ways because He created each of us very uniquely. He knows how to speak to each one of us in His own way and it will always line up with the Word, the Bible. He is the Word.
Here is the Lord's Prayer from John 17:1-21, enjoy and rejoice.
"
These words spake Jesus, and lifted up his eyes to heaven, and said, Father, the hour is come; glorify thy Son, that thy Son also may glorify thee:
2

As thou hast given him power over all flesh, that he should give eternal life to as many as thou hast given him.
3

And this is life eternal, that they might know thee the only true God, and Jesus Christ, whom thou hast sent.
4

I have glorified thee on the earth: I have finished the work which thou gavest me to do.
5

And now, O Father, glorify thou me with thine own self with the glory which I had with thee before the world was.
6

I have manifested thy name unto the men which thou gavest me out of the world: thine they were, and thou gavest them me; and they have kept thy word.
7

Now they have known that all things whatsoever thou hast given me are of thee.
8

For I have given unto them the words which thou gavest me; and they have received them, and have known surely that I came out from thee, and they have believed that thou didst send me.
9

I pray for them: I pray not for the world, but for them which thou hast given me; for they are thine.
10

And all mine are thine, and thine are mine; and I am glorified in them.
11

And now I am no more in the world, but these are in the world, and I come to thee. Holy Father, keep through thine own name those whom thou hast given me, that they may be one, as we are.
12

While I was with them in the world, I kept them in thy name: those that thou gavest me I have kept, and none of them is lost, but the son of perdition; that the scripture might be fulfilled.
13

And now come I to thee; and these things I speak in the world, that they might have my joy fulfilled in themselves.
14

I have given them thy word; and the world hath hated them, because they are not of the world, even as I am not of the world.
15

I pray not that thou shouldest take them out of the world, but that thou shouldest keep them from the evil.
16

They are not of the world, even as I am not of the world.
17

Sanctify them through thy truth: thy word is truth.
18

As thou hast sent me into the world, even so have I also sent them into the world.
19

And for their sakes I sanctify myself, that they also might be sanctified through the truth.
20

Neither pray I for these alone, but for them also which shall believe on me through their word;
21

That they all may be one; as thou, Father, art in me, and I in thee, that they also may be one in us: that the world may believe that thou hast sent me.
"
Now Pastor made these scriptures clear by saying that Jesus:
1. Confirmed their position. She explained how this relates to each of us. He has placed us in a place already; if it is peace, we are in that place now; if it is joy, we are in that place now. He wants us to be joyous in this place today, as was prophesied to us today.
2. Gave them unity, unified in Him. We are unified in Him, today the joy of the Lord is our strength. Today we are unified through His joy in us.
3. Gave them joy. What are you waiting on, it is there, just "pick up" your joy and use it.
4. Protected them. He keeps you free from the wiles of the enemy. Two wiles "I can't" and "I don't know," and then we add on "Now I'm too old!" Jesus protects us from these wiles.
5. Sanctified and equipped them. Being sanctified and equipped, "We ought to tear up this place!"
Pastor Crowder went on to say that it is not by sight, but by faith. "Go here, go there, by faith. Get to a place where you do it by faith and not by sight. It is by faith, not by doubting. Joy by faith. We miss out on God because we are walking by sight and not by faith."
The war is over, believe it. Where I am you shall be also.

"In my Father's house are many mansions: if it were not so, I would have told you. I go to prepare a place for you. And if I go and prepare a place for you, I will come again, and receive you unto myself; that where I am, there ye may be also."

John 14:2-3.
Stay up in the Spirit by prayer and fasting. And when He takes you higher into the heavenly places, don't sit down! Keep moving with Him.
I want to get into Pastor's interpretation of Eldress Jefferson's dream and the "crucifixion" we go through as God is making us ready to serve Him. It is detailed and exciting so I will continue this in Part 2.
Be encouraged saints and keep praying, interceding, and stay in a place of joyfulness. Stay in the place where God has you right now until He shows you your next assignment. Love you much.