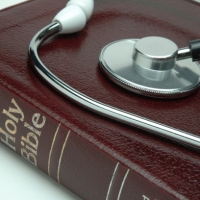 Do You Need a Physician?
by Sis. Jane Kimmes | March 4, 2015
Once again God has taken us into His Glory and Truth in deliverance, and so High today that it quickly effected a change in each of our souls (mind, will, and emotions) and in our whole body and Spirit too. There is just no guessing what He will do next! Watch out though, this still is just the beginning or shall I say a sample of what He is about to do here at GWOD and in our lives to show us His Truth, Power, and Glory. When He takes us this High into His Glory we'd better keep pressing in by faith, seeking His Face, because there is no end to His Power and Glory that He freely wants to display here on this earth all by Himself and also through us. He is the only One that can, may I say, "show off." He is Truth and in Him is no lie, so let Him have His Way.
Eldress Ollie taught a wonderful lesson from John 1:29-34

"The next day John seeth Jesus coming unto him, and saith, Behold the Lamb of God, which taketh away the sin of the world. 30 This is he of whom I said, After me cometh a man which is preferred before me: for he was before me. 31 And I knew him not: but that he should be made manifest to Israel, therefore am I come baptizing with water. 32 And John bare record, saying, I saw the Spirit descending from heaven like a dove, and it abode upon him. 33 And I knew him not: but he that sent me to baptize with water, the same said unto me, Upon whom thou shalt see the Spirit descending, and remaining on him, the same is he which baptizeth with the Holy Ghost. 34 And I saw, and bare record that this is the Son of God."

To sum up the lesson, John, who was filled with the Holy Ghost even from his mother's womb (Luke 1:15) was sent by God to prepare the way for Jesus, the perfect Lamb of God, the Son of God, who by His death, burial, and resurrection has given us eternal life and power when He baptizes us with the Holy Ghost. John baptized with water (a baptism of repentance), but Jesus baptizes us with His Spirit, the Holy Ghost (Christ in us), see Acts 19:4-6.
Now this teaching set the stage for many powerful testimonies to come forth including a word from Elder Sorrell saying that we should hold our peace and let God fight the battle, while at the same time making sure we have our fruit (the fruit of the Spirit) to bring somebody else out too. Eldress Pam encouraged us to "Behold God" on a daily basis, not religion but a relationship. There were more testimonies and then God then moved on Co Pastor Lane and she began to preach a powerful message that God had spoken to her over the last few days. This message was for all of us. I would suggest that you get a CD of this powerful word. I will do my best to sum up the message below.
She began by saying that some of us are spiritually minded but not getting filled with the Holy Ghost, explaining that the Holy Ghost thrives and blesses everything He touches. She asked the questions, "Are you thriving? Do you need a physician?" She gave us Matt 9:10-13

"And it came to pass, as Jesus sat at meat in the house, behold, many publicans and sinners came and sat down with him and his disciples. 11 And when the Pharisees saw it, they said unto his disciples, Why eateth your Master with publicans and sinners? 12 But when Jesus heard that, he said unto them, They that be whole need not a physician, but they that are sick. 13 But go ye and learn what that meaneth, I will have mercy, and not sacrifice: for I am not come to call the righteous, but sinners to repentance."

She went on to say that there are areas in us that are not whole and we really do not know Him. "But why is our faith lacking in some of us?" When she asked that question, I was reminded of Rom 14:23

"...for whatsoever is not of faith is sin."

Oh, I definitely need the Physician (Jesus) and if I am sick in my body or mind I may also need the advice and help of a physician or a doctor who is trained in these fields. God has equipped and ordained these people for us to call upon, of course only after seeking Him first. He will direct us as to which doctor is right and He will guide that doctor as well.
She continued with 3 John 1-2

"The elder unto the well beloved Gaius, whom I love in the truth. 2 Beloved, I wish above all things that thou mayest prosper and be in health, even as thy soul prospereth."

Prosper means to thrive, flourish, develop vigorously. So we all need to ask ourselves the questions "Am I growing in the natural? Am I growing in the Spirit?" If our soul (mind, will, and emotions) is not prospering, ask yourself "What is wrong with my soul?" She explained that the will is the center of control for us. We can be stubborn and this is a rebellious spirit. This means that your will is not yet broken and the adversary (devil) still has control of your soul; you are out of balance in certain situations. Give your will over to God. Some of us

don't give our wills over to God because we feel we may lose control and this "control" is how we have held ourselves together for all of these years!
Co Pastor Lane mentioned the lunatic in the Bible (Mark 5, Matt 17:15) and stated that emotional upsets let other demons come in and control you. These emotional upsets happened when you were a child, at a time when you were the most vulnerable. The first spirit to enter is a stubborn will or a strong will. This spirit of stubbornness causes you to say things such as, "I'm never ever going to let this (hunger, abuse, homelessness, rejection, not being loved, etc) happen to me again." To fix this you have to rebuke that spirit and say, "I don't want this in my life anymore." You may wonder what is going to happen to you if you lose that spirit? Well, God will take over! If you don't rebuke that spirit, you will continue to doubt others and not trust anybody. This is all due to the fact that you don't want anyone to do what was done to you earlier in your childhood. If you are having difficulty in making decisions for your life, just listen to the Holy Ghost. He will talk to you and direct you in the right decisions for your life. Don't struggle and worry over it, instead "Behold the Lamb of God, who taketh away the sin of the world." Follow the first instruction that you receive from God.
If you are not flourishing ask God, "Why am I not flourishing vigorously?" Is it childhood memories of being hungry, homelessness, abuse, Momma loving them more than me, where was Daddy, or parents fighting and beating each other? But today is a day of deliverance, "Behold the Lamb of God." Isaiah 53:3-5

"He is despised and rejected of men; a man of sorrows, and acquainted with grief: and we hid as it were our faces from him; he was despised, and we esteemed him not. 4 Surely he hath borne our griefs, and carried our sorrows: yet we did esteem him stricken, smitten of God, and afflicted. 5 But he was wounded for our transgressions, he was bruised for our iniquities: the chastisement of our peace was upon him; and with his stripes we are healed."
After the stubborn spirit enters in then comes along anger and self pity! Nothing makes you happy because you have to control it all (lack of trust). This is because the childhood wounds let the devil crawl in, but God died for us so that we could be reconciled back to Him. He has Mercy on you and does not cut you off (read Matt 9:13 again). He loves you. He is here to wash you with the Word. The Holy Ghost makes you different, are you whole? God is working on us. Take time and do what the Word tells you to do. Being overly stressed, not sleeping enough, not eating properly, and being emotionally upset can cause the chemicals in the brain to be disturbed and depression can set in. Depression, bipolar, psychosis and much more can also run in the family line but the power of Christ in us changes us. Praise Him now everybody! So you take your medicine if you need it and stay in the Word. John 8:32

"And ye shall know the truth and the truth shall make you free."

It is important to live; you need to have joy sometimes, you need to have peace sometimes, you have to have a breakthrough! Have some "talk" therapy. Talk it out, talk out what happened and what hurt you, then you can experience real forgiveness. The Holy Ghost comes in on a glad heart. It is difficult to come in if you are angry. If you are "in control" then God doesn't have any room in there, so let Him in and let Him have the control. He wants a broken and contrite heart. Psalm 51:17

"The sacrifices of God are a broken spirit: a broken and a contrite heart, O God, thou wilt not despise."
The Word was very powerful today and brought deliverance in our souls, we all broke out in praise and thanksgiving. It is not to late to unlock yourself and unlock your doors, and let God in. Let God have control. Go ahead and walk on in the Gate is open! Ask God to Heal your broken heart. Ask God to heal your wounded spirit. Surrender it to God, lay it down before Him. Let Him carry your burden. Have you all noticed how these wonderful Words coming to us each week have been given through different vessels and each of these vessels have been pressed and squeezed, but this pressing exudes the most beautiful fragrance so pleasing to God. It is in these suffering moments that they are surrendered to God completely and He fills them with His power (anointing) and Word. We love you Co Pastor Lane and our effectual fervent prayers have bombarded the gates of hell and no weapon formed against you shall prosper. These bold prayers have reached the Throne of grace on your behalf and God has given you mercy and grace to help in your time of need. Be Blessed and Healed in Jesus' Name.
2 Cor 4:17

"For our light affliction, which is but for a moment, worketh for us a far more exceeding and eternal weight of glory..."
I am praying this prayer for all of us: 1 Thess 5:23

"And the very God of peace sanctify you wholly; and I pray God your whole spirit and soul and body be preserved blameless unto the coming of our Lord Jesus Christ."