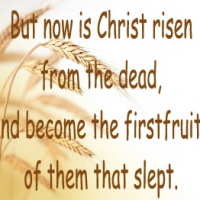 But Now is Christ Risen
by Sis. Jane Kimmes | April 7, 2015
Resurrection Sunday is an everyday occurrence for all of us here at GWOD, go ahead and shout out Amen! Christ is alive and moving in and through each of us that have dedicated our lives to Him. No matter what comes our way, God picks us up and gives us new life in Him for the mastery of each situation. When things are going great, well, He continues to Bless us and He directs every new step as we grow in Him. We had a wonderful Resurrection service today with family, friends, and guests including a special time for all of the children and youth to proclaim the wonders of the death, burial, and resurrection of our Lord Jesus Christ. They all spoke beautifully, magnifying our Lord Jesus Christ and Chrischien honored Him beautifully on the saxophone. We know that God was pleased with all of them and He will bless them as they continue to learn of Him. We love our children, teenagers, and young adults and God was showering His love upon them today as they spoke out giving Him Glory. His love swept over all of us, young and old, and not one of us was left out! Praise God.
Sister Crumbley asked us these two important question, "How sure are you of what you believe? Are you in Adam or in Christ? We studied 1 Cor 15:1-11, 20-22, "Moreover, brethren, I declare unto you the gospel which I preached unto you, which also ye have received, and wherein ye stand; 2 By which also ye are saved, if ye keep in memory what I preached unto you, unless ye have believed in vain. 3 For I delivered unto you first of all that which I also received, how that Christ died for our sins according to the scriptures; 4 And that he was buried, and that he rose again the third day according to the scriptures: 5 And that he was seen of Cephas, then of the twelve: 6 After that, he was seen of above five hundred brethren at once; of whom the greater part remain unto this present, but some are fallen asleep. 7 After that, he was seen of James; then of all the apostles. 8 And last of all he was seen of me also, as of one born out of due time. 9 For I am the least of the apostles, that am not meet to be called an apostle, because I persecuted the church of God. 10 But by the grace of God I am what I am: and his grace which was bestowed upon me was not in vain; but I labored more abundantly than they all: yet not I, but the grace of God which was with me. 11 Therefore whether it were I or they, so we preach, and so ye believed... 20 But now is Christ risen from the dead, and become the firstfruits of them that slept. 21 For since by man came death, by man came also the resurrection of the dead. 22 For as in Adam all die, even so in Christ shall all be made alive."
These scriptures say it all. If we are a true believer, we are in Christ. Jesus is with us and in us at all times, and we have this promise, Christ in us, the hope of glory both now in our earthly perishable bodies through the Holy Ghost and also forever when we receive our glorified imperishable bodies (read 1 Cor 15:35-58 and Col 1). Look at the recorded number of eye witnesses that saw Jesus after His resurrection. He also showed himself alive to the apostles for over a 40 day period and spoke of the Kingdom of God. "The former treatise have I made, O Theophilus, of all that Jesus began both to do and teach, 2 Until the day in which he was taken up after that he through the Holy Ghost had given commandments unto the apostles whom he had chosen: 3 To whom also he shewed himself alive after his passion by many infallible proofs, being seen of them forty days, and speaking of the things pertaining to the kingdom of God: 4 And, being assembled together with them, commanded them that they should not depart from Jerusalem, but wait for the promise of the Father, which, saith he, ye have heard of me. 5 For John truly baptized with water; but ye shall be baptized with the Holy Ghost not many days hence...8 But ye shall receive power, after that the Holy Ghost is come upon you: and ye shall be witnesses unto me both in Jerusalem, and in all Judaea, and in Samaria, and unto the uttermost part of the earth" Acts 1:1-5, 8. We must believe by faith and receive the Holy Ghost; blessed are they that have not seen but yet believe.
On the third day, Christ rose from the dead and He is the "firstfruits" of those that rise from the dead. May I say, He was the first to rise from the dead, never to die again. All the others in the Bible that were raised from the dead (for instance Lazarus, the son of the widow of Zarephath, the son of the Shunammite, and the daughter of Jairus) all died in later years. Christ is truly "the firstborn from the dead" (see Col 1:18). Only Jesus has truly conquered death. Those who are in Christ will rise at His coming. The Feast of Firstfruits was a Jewish feast held at the beginning of the grain harvest. It was observed on the third day after the Passover. The people were to bring a sheaf of grain to the priest, who would then wave it before the Lord as an offering. No grain was to be eaten until the firstfruits offering was offered unto God. A burnt offering, a meal offering, and a drink offering were also required at this time (read Lev 23:9-14 and Deut 26:1-10). Jesus is the fulfillment of the firstfruits offering. He had no sin yet, because of His love for us He died on the cross (the Passover Lamb), was buried (the Unleavened Bread), and rose from the dead on the third day (the Firstfruits demonstrating the future resurrection of the church). He is the perfect lamb that was slain for our sins. We have forgiveness of sins and eternal life only through Jesus, because of His sacrifice. His resurrection paves the way for our resurrection. As Co Pastor Lane said, "He is our guarantee that our sins have been washed and purged. He is our guarantee of opportunity of oneness in God. Sin no longer has dominion over us!" Are you in Christ? If you are struggling with the answer to that question, then get on you knees and ask Jesus to save you. He will do it and He will fill you with the Holy Ghost. He loves us and died for us so that we could have new life in Him.
Minister Lane encouraged us to reach out to the lost and to keep our light burning to witness for Christ. "Don't be the one who accepts Barabbas to get rid of Jesus." Wow, I never thought of Barabbas in that manner, but that is exactly what the people did and we can easily do that today too. Are you still in Adam or are you in Christ? Receive Christ now and live, let Him fill you with His mighty resurrection power.
Co Pastor McCarty preached a quick, powerful, and right to the point word today on Victory in Christ. John 20:24-29 "But Thomas, one of the twelve, called Didymus, was not with them when Jesus came. 25 The other disciples therefore said unto him, We have seen the LORD. But he said unto them, Except I shall see in his hands the print of the nails, and put my finger into the print of the nails, and thrust my hand into his side, I will not believe. 26 And after eight days again his disciples were within, and Thomas with them: then came Jesus, the doors being shut, and stood in the midst, and said, Peace be unto you. 27 Then saith he to Thomas, Reach hither thy finger, and behold my hands; and reach hither thy hand, and thrust it into my side: and be not faithless, but believing. 28 And Thomas answered and said unto him, My LORD and my God. 29 Jesus saith unto him, Thomas, because thou hast seen me, thou hast believed: blessed are they that have not seen, and yet have believed."
Co Pastor McCarty exhorted us to get rid of fear. Jesus didn't use the door, but he stepped into their situation. Fear causes terror and because of past experiences that didn't go well, many people won't taste of life for fear of being hurt again. He encouraged us to open up to the Lord and let Him bring back life and joy. Some are hurt and don't feel loved and some are doubting. Do we have any believers? Isaiah 53:1 "Who hath believed our report? and to whom is the arm of the LORD revealed?" Who has believed? Revelation is coming unto you today. God won't come like you want Him to come. He will work on you in His way and in His time. Co Pastor McCarty explained that some of us are like Thomas and we say, "Until the Lord delivers me, I won't believe." Jesus bled, suffered and sacrificed Himself just so we could come in. "You have to understand, your resurrection has been guaranteed. It is a sure thing. Be filled with the Holy Ghost and fire! Get the fire going." 1 John 4:4 "Ye are of God, little children, and have overcome them: because greater is he that is in you, than he that is in the world." You have overcome "them." The "them" can be anything: laziness, disobedience, hard head, stubbornness, high blood pressure, etc. This is the victory that we have in Christ. It is not based on how much you pray, it is based on what Jesus did.
Rom 8:31

"What shall we then say to these things? If God be for us, who can be against us?

" Co Pastor McCarty said, "The devil comes in and messes with your minds, but God has assured you that Victory is yours. Victory is similar to a husband working hard all day. Then he comes home and puts the check in his wife's hand. She just has to receive it. You just have to receive the Victory, Jesus has cancelled the debt. You are no longer what you used to be, now you are in Christ." 2 Cor 5:17 "Therefore if any man be in Christ, he is a new creature: old things are passed away; behold, all things are become new."
When our life is hid in Christ we operate in Christ. I will close with Col 3:1-4 "If ye then be risen with Christ, seek those things which are above, where Christ sitteth on the right hand of God. 2 Set your affection on things above, not on things on the earth. 3 For ye are dead, and you life is hid with Christ in God. 4 When Christ, who is our life, shall appear, then shall ye also appear with him in glory." Be blessed and let's continue to pray as we have been instructed. Wasn't that a sweet little baby that was dedicated and blessed today. Pastor Crowder's prayer for the baby's mother was powerful too, including that God would bless her with wisdom and knowledge in raising the baby. Keep them in your prayers. Pray one for another. I love all of you dearly.