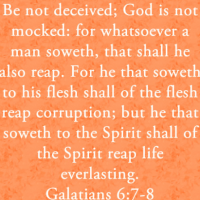 Be Not Deceived
by Sis. Jane Kimmes | April 29, 2015
We had a strong Word of warning today at GWOD, an exhortation on making sure that we are neither being deceived nor following any deceivers or deceiving spirits. We must avoid these deceptions by being filled with the Spirit, studying the Word, and fellowshipping among true Holy Ghost filled believers of truth so that we will not fall into any sly deception. We studied 2 John 1:1-13, go ahead and read it again. "The elder unto the elect lady and her children, whom I love in the truth; and not I only, but also all they that have known the truth; 2 For the truth's sake, which dwelleth in us, and shall be with us for ever. 3 Grace be with you, mercy, and peace, from God the Father, and from the Lord Jesus Christ, the Son of the Father, in truth and love. 4 I rejoiced greatly that I found of thy children walking in truth, as we have received a commandment from the Father. 5 And now I beseech thee, lady, not as though I wrote a new commandment unto thee, but that which we had from the beginning, that we love one another. 6 And this is love, that we walk after his commandments. This is the commandment, That, as ye have heard from the beginning, ye should walk in it. 7 For many deceivers are entered into the world, who confess not that Jesus Christ is come in the flesh. This is a deceiver and an antichrist. 8 Look to yourselves, that we lose not those things which we have wrought, but that we receive a full reward. 9 Whosoever transgresseth, and abideth not in the doctrine of Christ, hath not God. He that abideth in the doctrine of Christ, he hath both the Father and the Son. 10 If there come any unto you, and bring not this doctrine, receive him not into your house, neither bid him God speed: 11 for he that biddeth him God speed is partaker of his evil deeds. 12 Having many things to write unto you, I would not write with paper and ink: but I trust to come unto you, and speak face to face, that our joy may be full. 13 The children of thy elect sister greet thee. Amen."
Minister Evelyn pointed out that religion today is merely a "fad" with churches gathering numbers, tithes and offerings but not caring for the souls. They cannot care for the souls because their own souls are deceived and in danger too. This is what Jesus calls the blind leading the blind. "But he answered and said, Every plant, which my heavenly Father hath not planted, shall be rooted up. 14 Let them alone: they be blind leaders of the blind. And if the blind lead the blind, both shall fall into the ditch" Matt 15:13-14. A Pastor's heart should be one of loving God and not wanting anyone to be lost. Thank God we have Pastors and leaders with the Shepherd's heart here at GWOD teaching the Word by the Spirit, using Scripture to interpret Scripture. Deceivers are being led either by their own hearts, a deceiving spirit, the world, or other deceived leaders. They themselves are deceived and they are out and about deceiving others. Deceive means: to mislead by a false appearance or statement; delude; to be false; fail to fulfill; to cause to accept as true or valid what is false or invalid. 2 Cor 11:13-15 warns us, "For such are false apostles, deceitful workers, transforming themselves into the apostles of Christ. 14 And no marvel; for Satan himself is transformed into an angel of light. 15 Therefore it is no great thing if his ministers also be transformed as the ministers of righteousness; whose end shall be according to their works." It is necessary to test every spirit and all teachings to see if they are truly from God or if it is a lie from Satan and his servants. All must line up with the Word of God.
Here is another scripture warning us not to believe every spirit, but instead to test that spirit. "Beloved, believe not every spirit, but try the spirits whether they are of God: because many false prophets are gone out into the world. 2 Hereby know ye the Spirit of God: Every spirit that confesseth that Jesus Christ is come in the flesh is of God: 3 And every spirit that confesseth not that Jesus Christ is come in the flesh is not of God: and this is that spirit of antichrist, whereof ye have heard that it should come; and even now already is it in the world. 4 Ye are of God, little children, and have overcome them: because greater is he that is in you, than he that is in the world. 5 They are of the world: therefore speak they of the world, and the world heareth them. 6 We are of God: he that knoweth God heareth us: he that is not of God heareth not us. Hereby know we the spirit of truth, and the spirit of error" 1 John 4:1-6.
Again, we cannot just take one scripture alone, but must interpret it with all other Scriptures in the Bible. Many profess Christ but are not living like Christ and are very deceived. Jesus said, "A good tree cannot bring forth evil fruit, neither can a corrupt tree bring forth good fruit. 19 Every tree that bringeth not forth good fruit is hewn down, and cast into the fire. 20 Wherefore by their fruits ye shall know them. 21 Not every one that saith unto me, Lord, Lord, shall enter into the kingdom of heaven; but he that doeth the will of my Father which is in heaven. 22 Many will say to me in that day, Lord, Lord, have we not prophesied in thy name? and in thy name have cast out devils: and in thy name done many wonderful works? 23 And then will I profess unto them, I never knew you: depart from me, ye that work iniquity" Matt 7:18-23. These are strong words right from Jesus' mouth. How can we do the will of the Father which is in heaven? By receiving the Holy Ghost, adhering to the Word of God at all times, doing God's will for each of our lives and not following our own agendas. As Minister Evelyn put it, "We must line ourselves up with the Word and we must not compromise or deviate from the Word." Many churches are trying to please the world and the people's flesh and have compromised the truth in order to appease the masses. We should neither listen to them nor entertain any of their ideas because that would be partaking of their evil deeds (see 2 John 1:11). So if it does not line up with the Word of God, flee from it! Study the Word and know the Word for yourself.
We were reminded that Christian love is based on God's truth revealed in Christ. When truth dwells in is (Christ in us) our character changes and we become Christlike. Yes, you can come to God as you are but you have to know that you won't stay that way! Christ will change you completely! When we walk in truth we will walk after His commandments; loving God and loving one another. We are to carry out God's love and at the same time realize that it does not include accepting false teachers, false doctrines, or the world's ideologies. We are to stand firm in God's truth, discerning those in error so as not to allow ourselves or others around us to be swept away in the strong current of philosophies, vain deceit, and humanistic thinking that is so prevalent today. "Beware lest any man spoil you through philosophy and vain deceit, after the tradition of men, after the rudiments of the world, and not after Christ" Col 2:8. "But evil men and seducers shall wax worse and worse, deceiving, and being deceived" 2 Tim 3:13. "And Jesus answered and said unto them, Take heed that no man deceive you. 5 For many shall come in my name, saying, I am Christ; and shall deceive many" Matt 24:4-5. "And then shall many be offended, and shall betray one another, and shall hate one another. 11 And many false prophets shall rise, and shall deceive many. 12 And because iniquity shall abound, the love of many shall wax cold. 13 But he that shall endure unto the end, the same shall be saved" Matt 24:10-13. "Then if any man shall say unto you, Lo, here is Christ, or there; believe it not. For there shall arise false Christs, and false prophets, and shall shew great signs and wonders; insomuch that, if it were possible, they shall deceive the very elect" Matt 24:23-24.
There are many defectors who once believed but now reject the truth of God's Word. The Spirit of God does not dwell in them, but rather the spirit of the antichrist. We have been warned to be alert and not to let these false prophets or teachers persuade or ensnare us. Do not listen to them. Our perfection comes from Christ alone. When we live in truth, we are preserved by God's grace, mercy and peace that comes from Him alone. Praise God! God has warned us and yet many will be carried away believing a lie rather than receiving the love of the truth, "Even him whose coming is after the working of Satan with all power and signs and lying wonders, 10 And with all deceivableness of unrighteousness in them that perish; because they received not the love of the truth, that they might be saved. 11 And for this cause God shall send them strong delusion, that they should believe a lie: 12 That they all might be damned who believed not the truth, but had pleasure in unrighteousness. 13 But we are bound to give thanks alway to God for you, brethren beloved of the Lord, because God hath from the beginning chosen you to salvation through sanctification of the Spirit and belief of the truth: 14 Whereunto he called you by our gospel, to the obtaining of the glory of our Lord Jesus Christ. 15 Therefore, brethren, stand fast, and hold the traditions which ye have been taught, whether by word, or our epistle. 16 Now our Lord Jesus Christ himself, and God, even our Father, which hath loved us, and hath given us everlasting consolation and good hope through grace, 17 Comfort your hearts, and stablish you in every good word and work" 2 Thess 2:9-17.
In closing let's remember not to compromise with our family members or children either. Minister Evelyn eloquently explained, "God's yes is yes and His no is no; He is not concerned about our opinions! Don't worry about whether they will love you or not, stand firm on God's Word; God will work it out." Be Blessed everybody and continue to pray for all of our family members that are in need of a mighty touch from God. Continue to live in faithfulness to God's revealed truth and walk in the Spirit so that you will not be deceived, nor will you cause others to stumble who happen to be observing your contrary behavior in the flesh! Instead, act in Love and Truth being led by the Spirit. "If we say that we have no sin, we deceive ourselves, and the truth is not in us. If we confess our sins, he is faithful and just to forgive us our sins, and to cleanse us from all unrighteousness" 1 John 1:8-9. "Let no man deceive himself. If any man among you seemeth to be wise in this world, let him become a fool, that he may be wise" 1 Cor 3:18. True born again believers will not stay deceived, because if they are sincerely seeking God, the Spirit of truth will guide them into all truth eventually. I know this was "tough" encouragement but very necessary for all who read this. God loves us so much that He doesn't want us to be deceived in any way concerning His truth. Pray for all Pastors world wide who call on the Name of Jesus that they will be guided into all truth and not lead their sheep astray. Pray that all souls will come to Jesus. "The Lord is not slack concerning his promise, as some men count slackness; but is long-suffering to us-ward, not willing that any should perish, but that all should come to repentance" 2 Pet 3:9. I love you all very much.
Love,
Sis. Jane