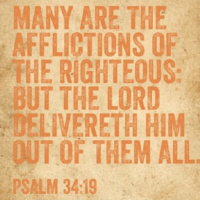 Pray and Fast
by Sis. Jane Kimmes | April 2, 2015
We have been led by the Spirit into a time of prayer and fasting here at GWOD concerning this plague of affliction. We have commanded these demons of affliction to leave in Jesus Name. As we continue to pray and fast, EVERYTHING that is not like God will also come to the forefront, in order to be swept away from us. We will not allow demons, the world, or our own flesh to take control or even try to take control of any of us here at GWOD. God is moving in a mighty way and the enemy is a defeated foe. Everything is being swept clean and put in order and we will keep it that way through obedience to the Word, by the Spirit. We must be filled with the Holy Ghost daily. 2 Cor 10:3-6 says, "For though we walk in the flesh, we do not war after the flesh: 4 (For the weapons of our warfare are not carnal, but mighty through God to the pulling down of strong holds;) 5 Casting down imaginations, and every high thing that exalteth itself against the knowledge of God, and bringing into captivity every thought to the obedience of Christ. 6 And having in a readiness to revenge all disobedience, when your obedience is fulfilled."
When a temptation or trial comes our way, we must refuse to compromise or to have a pity party and we must stand firmly on the Word of God, all the while praising Him. Don't you know that the enemy and our flesh will try very hard to fight back and that is why we must mortify the flesh and also command the devil to get behind us. We will be tempted with the lust of the eyes, the lust of the flesh and the pride of life (read 1 John 2). Rom 8:13 says, "For if ye live after the flesh, ye shall die: but if ye through the Spirit do mortify the deeds of the body, ye shall live." Let's again remember how Jesus handled temptation and the devil, and do the same! "Then was Jesus led up of the Spirit into the wilderness to be tempted of the devil. 2 And when he had fasted forty days and forty nights, he was afterward an hungred. 3 And when the tempter came to him, he said, If thou be the Son of God, command that these stones be made bread. 4 But he answered and said, It is written, Man shall not live by bread alone, but by every word that proceedeth out of the mouth of God. 5 Then the devil taketh him up into the holy city, and setteth him on a pinnacle of the temple, 6 And saith unto him, If thou be the Son of God, cast thyself down: for it is written, He shall give his angels charge concerning thee: and in their hands they shall bear thee up, lest at any time thou dash thy foot against a stone. 7 Jesus said unto him, It is written again, Thou shalt not tempt the Lord thy God. 8 Again, the devil taketh him up into an exceeding high mountain and sheweth him all the kingdoms of the world, and the glory of them; 9 And saith unto him, All these things will I give thee, if thou wilt fall down and worship me. 10 Then saith Jesus unto him, Get thee hence, Satan: for it is written, Thou shalt worship the Lord thy God, and him only shalt thou serve. 11 Then the devil leaveth him, and, behold, angels came and ministered unto him"

Matt 4:1-11.
All right, there you have it, so let's speak the Word in each situation and not give the flesh and/or the devil a foothold. Continue to praise Him in each trial or temptation, speak the Word, walk in the Spirit and you will not give in or be discouraged. Remember obedience is better than sacrifice. If discouragement creeps in, get rid of it quickly and get your mind back on Jesus. Worship God with a song about how great He is, and watch self pity and discouragement flee. How many of you went through something this week? Did you feel the heavy weight it produced? Pastor Crowder encouraged someone today with Matt 11:28, "Come unto me, all ye that labour and are heavy laden, and I will give you rest. 29 Take my yoke upon you, and learn of me; for I am meek and lowly in heart: and ye shall find rest unto your souls. 30 For my yoke is easy, and my burden is light." This is a good Word for all of us also, because many of us labor in the flesh trying to "fix it" by ourselves. God's yoke is easy; learn of Him, it isn't hard to live Holy. He is telling us that His yoke is easy and His burden is light. The devil presses down on you, but Jesus gives you rest. His way is light and easy.
Co Pastor McCarty preached an encouraging word from Psalm 34:1, "I will bless the LORD at all times: his praise shall continually be in my mouth." We were encouraged to praise God even when we are "going through." He went on to Psalm 34:19, "Many are the afflictions of the righteous: but the LORD delivereth him out of them all." He explained that afflictions cause pain and suffering and that they were abounding here at GWOD. This is why we went into prayer, but "God, through prayer has delivered us."
In 1 Samuel 21, David (fearing Saul) fled to King Achish and overheard the servants of King Achish asking if this was David, the king of the land, the one whom the people honor with singing saying, 'Saul has slain his thousands, and David his ten thousands.' So David being afraid of what King Achish might do to him, changed his behavior before them and pretended to be a mad man, drooling and fumbling! Co Pastor McCarty related this to some of us, saying, "Some of you have changed your behavior because of your problem or affliction; your smile is not the same, it is crooked, your praise dance has a twitch, your face doesn't look the same, and you are faking it!" Afflictions can include: malady (disease), ailment (minor illness), handicap (a condition that restricts a person's ability to function physically, mentally, or socially), heartache (emotional anguish or grief, typically caused by the loss or absence of something and/or someone loved), impediment (hinderance or obstruction), and baggage (past experiences or long-held ideas regarded as burdens and impediments). He said, "Any affliction that God didn't send, return it to the sender! Afflictions can cause distress and anxiety and this anxiety can become extreme and turn into torment. The physical afflictions can affect you mentally causing double afflictions. Don't let your mind go back and hook up with the emotional grief that you have experienced in the past. Let it go!"
We were asked, "What are you going to do when your time of suffering comes?" Our answer is, "We will bless the Lord at all times. We will praise Him continually with our mouths!" The more of God we have in our lives, the bigger target we become for the enemy. We will have more enemies after us, but with God's power one can chase a thousand and two can put ten thousand to flight! "One man of you shall chase a thousand, for the LORD your God. he it is that fighteth for you, as he hath promised you" Joshua 23:10. "O that they were wise, that they understood this, that they would consider their latter end! 30 How should one chase a thousand, and two put ten thousand to flight, except their Rock had sold them, and the LORD had shut them up? 31 For their rock is not as our Rock, even our enemies themselves being judges" Deut 32:29-31. Say it out loud church, "God, through prayer has delivered us!" His promise is that He delivers us out of all of our afflictions and all equals 100%. If you have been delivered or healed and a little symptom remains there or tries to come back, rebuke it in Jesus' Name. Tell the devil to get behind you. "What do ye imagine against the LORD? he will make an utter end: affliction shall not rise up the second time" Nahum 1:9. Praise God everybody and worship Him right now!
Be Blessed and continue to pray and fast, as we have been instructed. I will leave you with this, "And Samuel said, Hath the LORD as great delight in burnt offerings and sacrifices, as in obeying the voice of the LORD? Behold, to obey is better than sacrifice, and to hearken than the fat of rams" 1 Sam 15:22. Obedience is better than sacrifice. So let's continue to seek Him, to listen to Him, to love Him, to obey Him, to worship Him and to love our neighbors as ourselves; all by faith, trusting in God and walking in the Spirit. "And to love him with all the heart, and with all the understanding, and with all the soul, and with all the strength, and to love his neighbour as himself, is more than all whole burnt offerings and sacrifices" Mark 12:33. I love all of you very much.